Dear Baby,
We still have one more week until the doctor so I'm still not sure how old you are. But in my mind, you turn 6 weeks old today.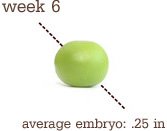 You are now the size of a snow pea. Your heart is beating — almost twice as fast as mine — and you are starting to sprout your arms and legs, which might wiggle by the week's end.
This is a busy week for you. You are starting to grow your eyes, ears, nose, cheeks and chin. Your intestines are developing, and the bud of tissue that will eventually grow to your lungs has appeared. Your pituitary gland is forming, as are the rest of your brain, muscles, and bones.
This has also been a busy week for your mom. I am in charge of my mother's store while she is in Korea, and never have I felt more exhausted and overwhelmed. How does your grandmother do this 6 days a week? All I can say is that she is one tough cookie.
While I am glad to be helping out, I can't help but be concerned that all this physical labor and added stress can't be good for you.
Today, while taking a break at work, I started crying because I was so tired, overwhelmed, and worried. Mostly worried. Worried about you. Please be okay, baby. Please stay strong and keep growing.
You may also like: