I used to love reading comic books as a child.
Korea has huge, thick comic "magazines" that feature some of the more popular series of comics. These monthly compilations would almost always include cliffhangers would keep me whining and salivating for the next month's issue. My favorite while growing up was 보물섬 (bomoolsum), which means "Treasure Island." I'm pretty sure that 보물섬 is no longer printed, as I could only find pictures of old issues.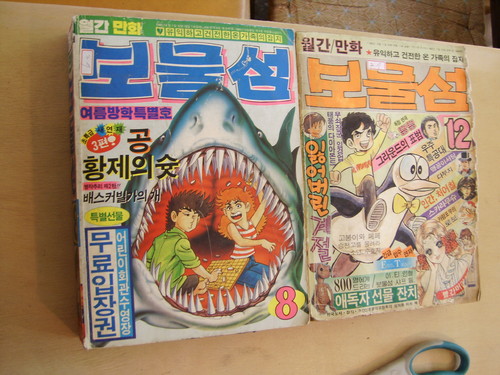 (image source)
Koreans (and the Japanese) are known for for creating specialized bangs, or rooms/spaces, that can be rented for popular hobbies. Some of the most popular Korean ones are:
노래방 (noraebang) – karaoke rooms
비디오방 (video-bang) or DVD방 (DVD-bang) – movie rooms. Please note that these are usually very seedy and are places where couples go to get it on.
PC방 (PC-bang) – computer rooms, always always with high-speed internet where masses of adolescent boys go to play MMORPGs.
보드게임방 (boardgame-bang) – boardgame rooms!
So it's only natural that 만화방 (manhwabang), or comic book rooms, should be included on this list.
It used to be that I would rent comic books by the bulk when my parents went to rent their Korean video tapes. However, this habbit slowly died down as the availability of rent-able comic books dwindled. Soon, I had grown quite distant from my beloved Korean comic books of the past.
In 2001, I started dating a Korean FOB (fresh off the boat). He lived in Northern Virginia, which has one of the largest Korean populations on the east coast. As our relationship developed, so did my further immersion into popular Korean culture.
One of my favorite activities to do with him as a couple was to go to one of Virginia's many manhwabangs.
Romantic? No. Cheesy and geeky? Yes. Exactly my cup of tea.
The manhwabangs of yore used to be small, cramped spaces with poor heating/cooling, carried mostly old and stained books mostly tailored for kids.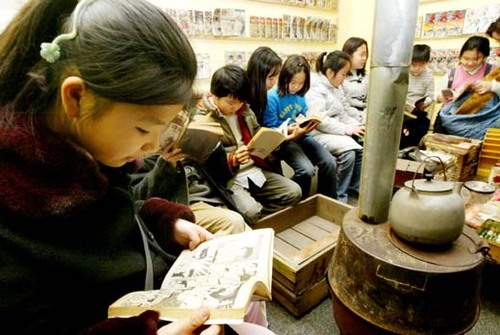 (image source)
Modern manhwabangs are pretty nice, with spacious, comfortable couches, a vast selection of books, and a clientele that mostly consists of an older crowd.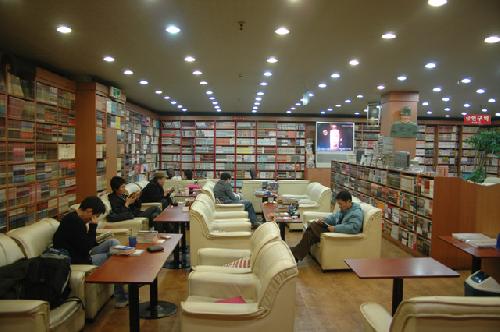 (image source)
Some even offer food, like ramen…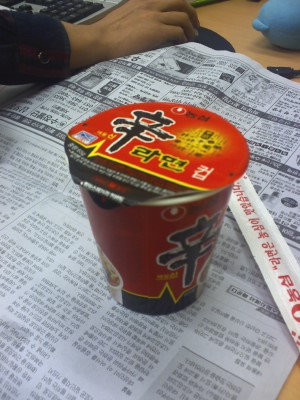 (image source)
오징어 (dried squid)…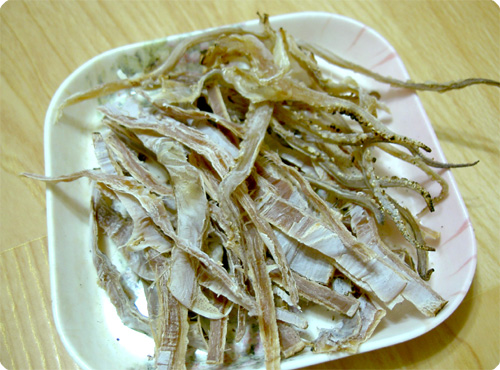 (image source)
쥐포 (dried filefish)…

(image source)
Many other yummy snacks…

(image source)
And a wide assortment of beverages.

(image source)
Whew! I'm getting hungry writing about this! Back to the point!
I haven't been to any good manhwabangs since I've moved back up to NY. There were numerous ones in Virginia – my favorite one was a manhwabang and a PC-bang combined – and I'm starting to miss them a lot.
I know that J would enjoy them too, because the larger ones (at least the ones in VA) have Japanese comic books which he is able to read. Not to mention, he too is a comics-lover with a huge collection at home. When I described some of my favorites from my childhood, he knew them as well, having read the Chinese translations when he was a kid.
The only manhwabang that I've been to in recent years is a small one in Palisades Park, NJ. It was dark and cramped, and none too impressive.
I've heard of some in Flushing but living in NJ, Queens is quite a trek for us. And if there are any in Manahattan, I'm sure it's just as overpriced as the rest of the city.
I shall continue my quest for a good manhwabang in the northern NJ/Manhattan area. I really miss immersing myself in a good comic book series, munching on snacks while popping a cold one.
You may also like: