While on our babymoon, I noticed a slight line extending up from my public bone.
"I think I'm starting to get my linea nigra," I told J.
"What's that?"
"A dark vertical line — usually extending from the belly button and the pubic area — that appears in most pregnancies."
"You mean a happy trail?"
"No, it's discoloration of the skin. It's not hair."
"But it looks like a happy trail!"
"It's not a happy trail. It's a LINEA NIGRA."
"Haha! You have a happy trail!!!"
Yes, my husband is very mature, wouldn't you say?
I fully expected my linea nigra to grow darker in the 7 weeks since I first noticed it, but it hasn't. Before pregnancy, I frankly found the linea nigra to be…well, gross. Now that I have it — albeit a very faint one — I'm not sure what to think. I know that it is a natural part of pregnancy and that it will most likely fade away, but I'm still a bit irked by it.
Did anyone else find their linea nigra to be gross? Maybe I'm the only one — who knows?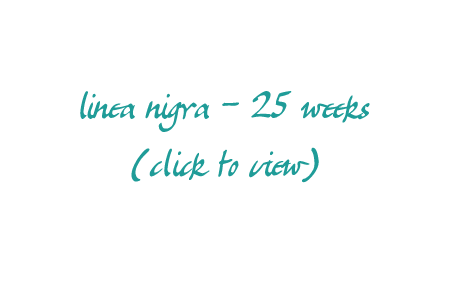 I have decided not to outrightly show this picture nor the one below because I know quite a
few readers who prefer not to see uncovered pregnant bellies. If you would like to see my
linea nigra, just click on the image above. To view the extra large version, click here.
I have read that the linea nigra is usually more pronounced on women with dark skin. I'm not sure if it will get any darker than this, but I'm hoping that my pasty white skin will serve me well in this regard. Either way, I will consider it my "battle scar," along with…
Stretch marks.
Because earlier today, I discovered my first stretch marks. Sigh.
Fortunately, my first stretch marks are not on my belly but rather on my side, where my love handles reside. And since they are only about an inch long, they almost look like marks left by the elastic of my pants.

Click here to view the extra large version
I really, really hope to avoid the kind of stretch marks that will leave my belly looking like it got mauled by a tiger. And I know some women will judge me for writing this, but I don't care, because I can't think of a single woman who actually celebrated the appearance of stretch marks.
I know of women who have applied stretch mark prevention cream religiously from the moment they got pregnant, but still managed to get horrible ones. I also know of some who swear up and down that their stretch mark creams worked miracles on their smooth, flawless bellies.
So far I have only been applying cream when I remember (which is usually every few days), and I only use the cheap kind you can find at any supermarket. However, I think I'll make it a point to start using it more regularly from now on. As for the type of cream, are there any brands that my readers recommend? Are the more expensive ones worth it?
My mother tells me that she only got a scant few stretch marks when she was pregnant, and they all managed to disappear shortly after giving birth. But then again, she's also a freak of nature who lost all her pregnancy weight and then some — naturally, without every trying — just a couple of months post partum with both kids.
Here's to hoping for her good genes!
You may also like: