No, not for me. I wish I could go on a business trip. I was only sent on 1-2 trips per year when I worked, so I actually quite enjoyed them and would LOVE to go on any sort of trip right now.
The business trip is for J, who will be shipped off to Silicon Valley next week for three days.
I hadn't realized that "mid-July" is literally next week, so I had been putting off on making any sort of plan for our household while my better half is on the other side of the country.
Option 1: Stay home and stick to my normal routine as much as possible. Comang will have to be walked while I push Claire in the stroller (I hate doing this because he likes to be extra difficult when the stroller is out with us) and I may have to forgo a couple of showers. Also, I tend not to eat much when J is not here (I sometimes forget to eat. I know, it's bad, but he has to constantly remind me to eat.) which could be a blessing or a curse. J might return to find our condo in disarray, with an attention-starved dog and a stinky, skinny wife.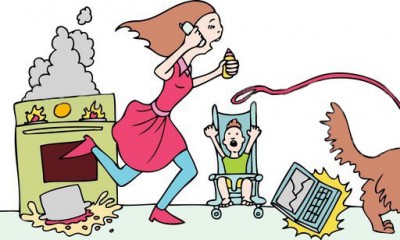 Option 2: Ask our part-time nanny to come in for some overtime. However, this will depend entirely on her schedule.
Option 3: Go stay at my parents' for the duration of J's trip. While I would appreciate the nighttime help (as both of them will be at work during the day), I'm still pretty iffy on whether Claire will be able to sleep away from home. Take yesterday, for example. Girlfriend refused to sleep for seven hours while we were there. She needs her crib to sleep well.
What would you do?
---
Update, 7/6/11:
Thank you to everyone for your input. A new situation has arose which will not allow me to take Claire to my parents, so it'll have to be option 1 or 2 (our nanny has yet to get back to me on her schedule).
You may also like: