Last week, my mother told me something that made me want to lock myself in a dark room and sob like a little girl.
You see, Claire had told her, "엄마는 다정이 안좋아해. 엄마는 효정이만 좋아해." ("Mommy doesn't like Claire. Mommy only likes Aerin.")
Now, I know that kids often say things they don't necessarily mean. And both J and my sister think that she was probably trying to get extra attention (and gifts!) from my mother. After all, she's been playing off, and sometimes even taking advantage of people's emotions since she turned 1!
But I can't help but think that at least a portion of that statement must be rooted in the truth.
Because Aerin's hearing is still impaired and she requires extra attention from us. Because we send Claire to preschool while Aerin stays home with me. Because Claire has seen Aerin's therapist work with her on more than one occasion and I could tell that she wanted to participate too. Because — although I try my best not to — it's natural to coddle the baby of the family and we tend to be stricter with Claire (because she's older and hence has the ability to better understand boundaries and consequences).
I imagine that Claire has been feeling more neglected and left out even more so in the past week as Aerin fell ill. And I can confidently say that she will feel worse next week, when Aerin gets her surgery.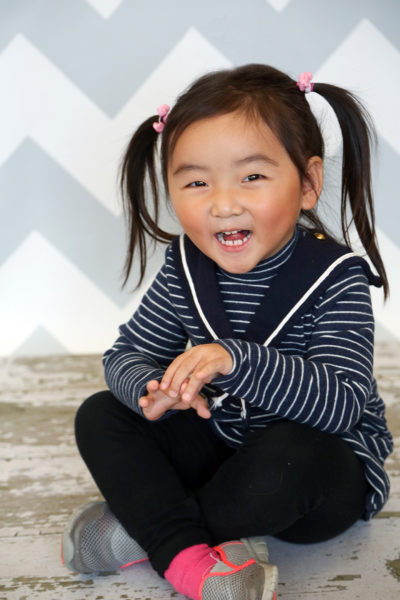 My fav shot from Claire's first school pictures
Isn't this how it starts? A family pays more attention to a particular child — whether due to an illness or through sheer favoritism — and the other, more neglected child(ren) ends up acting out to get attention? How sometimes, that cry for help arises in the form of destructive behavior or even mental illnesses such as Münchausen syndrome?
Damn, being a mother is tough. I guess all I can do is to give Claire as much extra love and attention as possible, and keep reminding her that I love her and her little sister equally.
You may also like: