I just finished watching the season premiere of Dexter and was surprised to see that Colin Hanks would be playing this season's villain. Don't get me wrong — I know that he is a great actor and would probably knock the role out of the park, but having met him in person, it is a bit difficult to imagine this outgoing, easily likable young man portraying a sinister character on screen.
Thinking about the contrast between Colin Hanks' character on Dexter versus what I knew of him from our encounter made me consider all the celebrities I have ever met, and (if they are actors/actresses) how they contrast from the roles they play, as well as their public perception.
Having lived near NYC for the majority of my life, I actually have NOT met a lot of celebrities. I have friends who seem to run into stars on a regular basis, but being a hermit who, when going out, prefers to haunt safe and tried spots, I have only met a handful of famous names compared to my friends.
My very first celebrity sighting is definitely one of my most memorable, because he is one of my all-time favorite basketball players: Allan Houston! You can read about my encounter here, and the biggest thing I can take away from our meeting is that he actually seemed a bit goofy and clumsy off-court! (But then again, I have heard the same of many professional athletes — that they seem awkward and unnatural out of their natural elements. ;-))
Then there was the cast of Gossip Girl. The show had just started to become popular, so I had no idea who they were at the time — all I knew was that J and I were about to shoot our engagement pictures, and they were creating extra traffic and commotion that interfered with our plans!
(You can read more about it here. And on the subject of celebrities, random tourists started taking pictures of me and J that day after seeing our photographer follow us around — they thought we were celebrities!)
What stands out the most about seeing Serena et al. that day was that they all seemed super nice. Every time that the director yelled, "Cut!" a gaggle of screaming fans would swarm over to the stars. And while the weather was chilly that day (and the female cast scantily clad), the cast ignored the assistants hovering nearby with warm coats and heaters, and instead took time to meet with the fans, sign autographs, and take pictures with them.
I also have a former co-worker who had drinks with Chace Crawford at the height of his Gossip Girl stardom, and she recalls that he was a total sweetheart who was not pretentious or stuck-up at all. Definitely an improvement over their television characters!
My third celebrity sighting came when I attended the New York premiere of The Great Buck Howard (see my post about it here). This was where I met Colin Hanks, in addition to his father, Tom Hanks (!!!), John Malkovich, and Emily Blunt.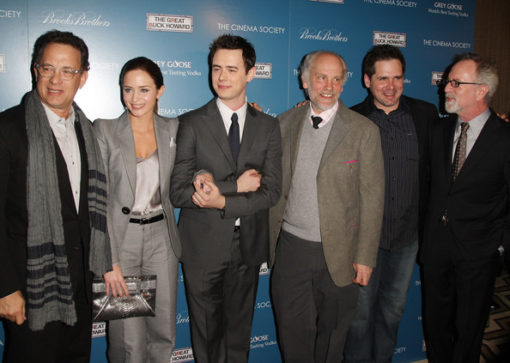 The cast of "The Great Buck Howard" on the night of the premiere I attended (image source)
As stated at the beginning of this post, Colin Hanks was very personable and friendly. I unfortunately did not get to talk with Emily Blunt (Who knew her career would skyrocket since then? Or that she would end up marrying my TV boyfriend?), but I definitely enjoyed meeting Tom Hanks, who was nothing like I had imagined. Based on his film roles, I had expected a goofy-in-a-charming-way personality. But he was an extremely gregarious man whose booming laughter would fill an entire room. He clearly loved being the center of attention and you can just feel his charisma lighting up everyone and everything around him.
But the biggest surprise was John Malkovich. I thought that he would be an eccentric, slightly crazy fella, just like the roles for which is most famous. But in real life, he was extremely polite and dignified, well-spoken and a bit reserved. He actually left the party early to go home to his wife!
The next, and last celebrity sighting I had was director Spike Lee. I had always seen him at his usual courtside seat at Knicks games, but I have never seen him up-close, until last summer, when J and I practically walked into him on a sidewalk in SoHo.

(image source)
And for once, my perception of him was right on target. He was lively, energetic, and talking about — what else? — the upcoming NBA Playoffs and how much he despised Boston.
Have you met any celebrities? Were they different from what you expected, or were they exactly as you had imagined them?
You may also like: