Does anyone remember the early 90s Nickelodeon show Clarissa Explains It All? I used to watch it ALL the time, fully soaking in the witty narration of Melissa Joan Hart's Clarissa Darling, enjoying her wacky outfits and accessories, and wishing that I too had a best guy friend named Sam who would climb in through my window.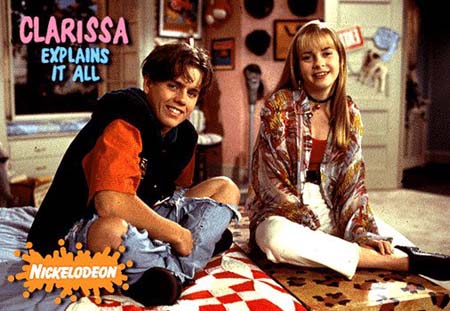 I always thought that Clarissa and Sam should hook up, and was majorly disappointed when they tried to be more than friends in that one episode which turned out to be a big FAIL. I was also sad to see the sitcom come to an end after 5 seasons and wondered why Clarissa couldn't go on explaining it all in college…
Well, apparently the show's producers had wondered the same thing!
Late last year, the pilot for Clarissa Now, the coulda-been spinoff of Clarissa Explains It All was uploaded to YouTube and the interweb has finally taken notice. According to Flavorwire:
Though the intro music still has some na-na-nas, in Clarissa Now, Miss Darling is 18 and interning at a newspaper in New York City, winning over her bosses (including the publisher, played by Tony Lifetime Achievement Award recipient Marian Seldes), pissing off the suspiciously cute reporter-in-training, playing with laughably outdated office equipment and riding the subway, which looks exactly the same as it does today. Unfortunately for us, CBS passed on the show, so the series was never filmed, but Clarissa fans can still click through to watch the pilot and have their minds blown. As Sam would say, what's the worst that could happen?
Ack!
And here it is, for your viewing pleasure:
I haven't watched it yet, but I will as soon as I finish writing this post!
P.S. — Other live-action Nickelodeon shows I used to enjoy watching include Salute Your Shorts, Are You Afraid of the Dark?, and The Secret World of Alex Mack. And after watching a few episodes iCarly and Wizards of Waverly Place, I feel like the pre-teen shows these days just don't compare. Or maybe my tastes are just old-fashioned?
You may also like: