J and I grew up in a culture and generation that was all for physical discipline. In fact, it was rare to find a household that did not spank/cane their children.
Our homes were not the only places for punishments either — I still remember how, having attending up to the 2nd grade in Korea, all the teachers kept a separate cane for punishments (the unspoken rules stated that we would "only" get hit on the palms of our hands or our calves)…from not doing your homework to straying from the dress code. One time, the entire class was hit three times on the palms of our hands because someone whistled during a lesson and no one would confess to it!
I have read that corporal punishment in the schools back in my native country has lessened up some, but still exists. Additionally, with the widespread penetration of the internet and video/photo technology, the instances of teachers abusing their power has significantly decreased, as illustrated in this funny GIF from haha.nu: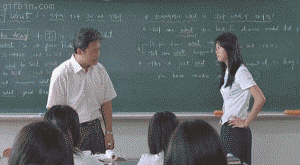 My sister and I were generally well-behaved kids. So while our parents did hit us on a few occasions, it was only when we were really really bad, and these times were far and few between.
J, on the other hand, was a very rebellious and unruly child. My MIL tells us that he and his brother used to make her cry almost every day with their uncontrollable behavior, and that they were hit quite often with canes of varying sizes. (She jokes that this is the reason she is happy we are having two girls — raising two disorderly boys has traumatized her! 😉 )
With our personalities being so dissimilar, J and I have talked at length regarding the disciplining of our children. The short answer? We are both for physical discipline. This is not to say that we will be hitting our children for every offense. Rather, we will only do so when they are very very bad. We will take care never to take it too far, and only do it in the privacy of our home. (Hopefully our children will grow up to be relatively well-behaved, like my sister and I were!)
We also know that I will act as the every day disciplinarian and that J will only step in for the large wrongdoings. We also believe that after a certain age, physical punishment will not be as effective and so we will need to stop.
We both are fully aware that there are many families who would never lay a hand on their children. And we do not believe that one style of parenting is better than the other — like almost all parenting decisions, we all have to make the best decision for our unique family. And for us, we feel that large offenses deserve physical punishment (of course, our views may change depending on the personalities of our children, underlying circumstances, etc).
I still remember the very last time that my sister and I were about to get hit. Our father had rounded us up after dinner, and we knew that we were most likely in for some hits on our palms due to our recent behavior. However, our father calmly told us that he was disappointed in us…but that he was more disappointed in himself because he had failed as a father. He then went on to hit himself on the palms of his hands with the stick that we thought was meant for us.
That, to us, hurt more than anything else.
We continued to have our rebellious moments (especially during our teenage years), but we were never hit again.
(Seriously. Isn't my dad the best or what?)
Were you hit as a child? Are you for or against corporal punishment?
You may also like: