A few years ago, Joshua Opperman made headlines when he created the website I Do Now I Don't.
I'd been engaged for three months. After a tough day at work, I came home to find that my fiancée and all her belongings were gone. Well, almost everything was gone. That beautiful diamond engagement ring was sitting on the coffee table looking up at me as if to say "so, what's next?"

I was devastated: The love of my life (or so I thought) was gone forever, and I was just crushed. How would I even start to recover?

I thought a great way to move on was to sell the diamond engagement ring that I had scrimped and saved for. So I took it back to the retailer I had bought it from. I assumed I would get a "haircut" off the price, but at least receive a decent offer. That's when I got my second shock.

The offer was staggeringly low. It turns out jewelers mark up rings two or three times over their wholesale cost. That $10,000 ring probably cost the jeweler $3,500. And that's just about what I was offered. Rather than get mad I decided to break even—and that's when I launched I Do Now I Don't.
Designed as a site where regular people can sell jewelry (for whatever reason) without having to deal with the harsh markdown faced by most second-hand pieces, I Do Now I Don't is now thriving and even employs a GIA-trained gemologist on staff.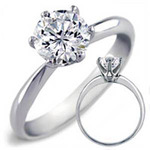 I was fully aware of this site and told J to take a look when I knew he was on the hunt for my engagement ring. Unfortunately, there wasn't anything we liked at the time.
But if we had found something? Would we have purchased it? Knowing full well that the engagement ring is a product of a broken engagement or even a divorce?
The answer is a resounding "yes."
Diamonds are expensive. And although I am fully aware of the poor resale value of diamonds (usually, you are lucky if you get back one-third of the initial purchase price) as well as the history behind DeBeers and artificial inflation of prices, I still wanted a diamond for my engagement ring and wouldn't have minded a second-hand piece at all if it meant a lower sticker price.
Even if that ring were a "divorce diamond."
There are some women who claim they could never accept a divorce diamond as an engagement ring. There might be a bad stigma attached to wearing a piece that is the product of a failed relationship and as such, it is not something you would like to be reminded of every time you look down to your hand.
However, I have never been the superstitious type. I don't believe that inanimate objects can be vessels of bad karma. If J had found a beautiful ring at a discount, I would've told him to jump on it — regardless of its history.
Besides, who really knows the full, 100% truthful history behind their own rings? Even diamonds that are Kimberly Certified have been known to have some conflict behind them. And although the GIA certificate behind my engagement ring is only a year older than the time J purchased it, there's still a chance that the diamond was worn by women hundreds of years ago, and only became re-certified on that date.
How about you? Would you ever knowingly accept a divorce diamond?
You may also like: