You know me. I can't resist well-designed pieces of graphic art, especially when they relate to my favorite television shows, movies, books, and video games! So when BreeAnn offered to submit a guest post on Olly Moss — whose work embodies all four subject matters and much more — I couldn't help but be excited.
A big thank you to BreeAnn for introducing me to this wonderful artist, in addition to highlighting some of his best works! And to my readers: I hope you all enjoy this post as much as I did!
---
I tend to geek out when I come across a movie poster or book cover design that utilizes a minimalistic style with a clean, brilliant idea. And while Saul Bass' opening sequences and logos have inspired many graphic designers to follow a similar path in their designs, I got especially excited when I discovered the works of UK-based artist Olly Moss.
His works are visually stunning and his ideas are brilliantly concise, but what really has me jumping up and down with glee are the movies that are represented. These aren't your everyday posters for your everyday films… these are spectacular posters for some spectacular favorites and cult classics.
I absolutely love how Olly's ideas are presented in such an in-your-face manner that I can't help but wonder, now why didn't I think of that first? He makes it all look so easy with his subtle associative imagery.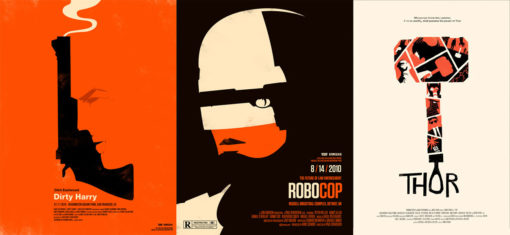 Some of his most popular designs include the set for the original Star Wars trilogy, which is currently listed on eBay for upwards of $3,000. This set would make the perfect gift for any fanatic, but Olly has sadly confirmed that there is no chance they will be re-printed. Still, they make for a great desktop background!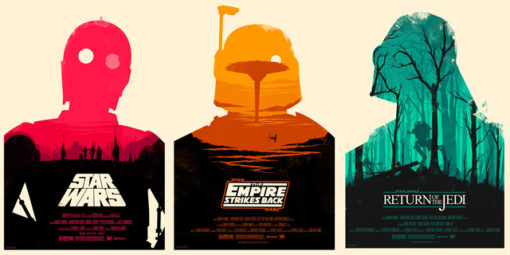 Unfortunately for fans of old and new, Olly Moss' screenprinted designs sell faster than hotcakes and are often in limited runs… which means once they're all sold out, you're only hope may be forking over hundreds on eBay. Which is too bad, because I wouldn't mind plastering the walls of our office room with his designs.
And if you're like me and can't get enough of his work, check out the images from his recent solo show, Paper Cuts. The show was comprised of more than 300 silhouette portraits of just about every pop icon you could hope for. I doubt there's a single person that wouldn't discover or recognize a figure they were a fan of.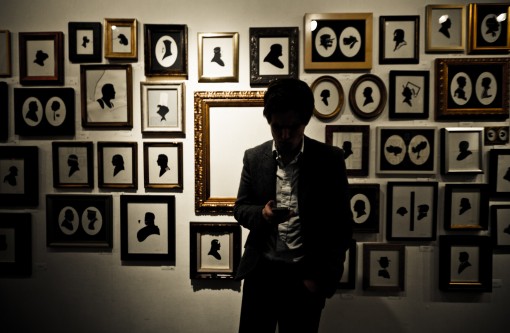 While the majority of the portraits are laser-cut from black paper, a few have a burst of color that they just wouldn't be complete without, like Rufio from the movie Hook.
The silhouettes cover a wide range of beloved movies, comics, and television shows. My husband's personal favorite is the Solid Snake portrait from Metal Gear Solid.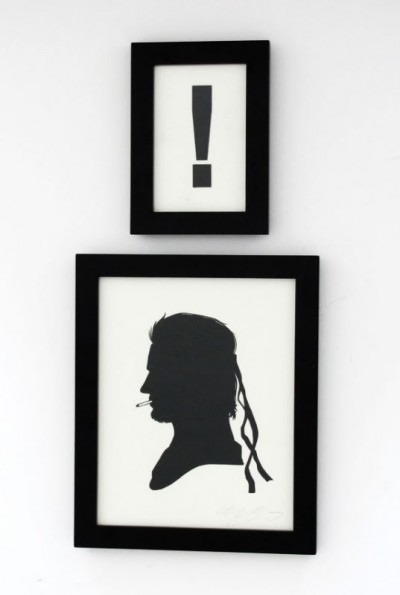 Needless to say, I absolutely love when art meets geekery and produces a love child of this caliber. Now I'll just have to try and wait patiently to see what project Olly tackles next.
*All images courtesy OllyMoss.com
---
About the Author:
BreeAnn is a freelance illustrator and designer who spends the majority of her time running her business, Lullafly Studios. When not hard at work, BreeAnn enjoys going on adventures with her husband and two cats as well as blogging as Mrs. Bunting at Weddingbee. You can follow her creative adventures on her art blog.
You may also like: