This post comes from none other than my SIL, for whose friendship and affinity I treasure every day. Just over a month ago, she very graciously lent her time and talent to decorating Claire's first birthday party and here, she details how she created each element of the fantastic DIY decor. She just recently moved halfway across the world to Shanghai, so please be sure to comment here and visit her blog to show some love!
---
When it comes to decorating a party, I used to get overwhelmed by how expensive it can be. Of course, if you go the DIY route, it's inexpensive with simple items you can find almost anywhere. For my niece's first birthday party I wanted to make it extra special for her since the first birthday is so important in Korea. Did I mention, my niece is Jenny's daughter Claire? 🙂  I wanted to make sure that Jenny didn't do a thing since she's pregnant with BebeDeux so I took on the job of decorating and I had so much fun doing it!
Streamers:
If you want to something different with your streamers and have a bit of time you could alter them a bit. I made streamer zig zag curtains on both sides of the birthday table and they were a hit.
All you have to do is take streamers in whatever color you like:
Cut slits on one side: 
Cut slits on the opposite side between the cuts you made:
Seriously, it's as simple as that. So make it in the length you want it and remember the deeper the slits, the more delicate it is. If you plan on going in and out of the curtains, I suggest you make the cuts further apart.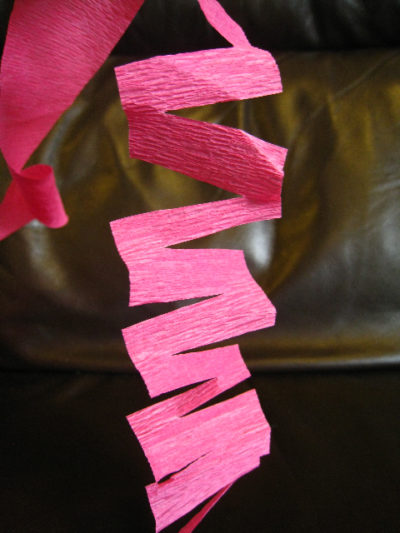 Isn't it so pretty?
Balloon Decor:
Balloons are also inexpensive and makes it's super easy for decorating. The last time I got helium filled balloons I was shocked at how much it cost for something I'll only use for a day. Not to mention the fact you have to tie it to something and usually I have nothing to tie it to. So I took a more DIY route for this as well.
All you need are balloons, thin white string and scotch tape.
Blow up the balloons: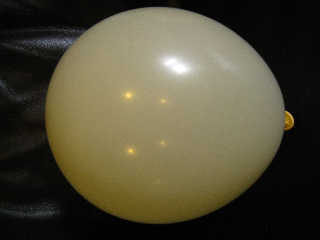 Tape the string to the top of the balloon: 
Tape to the ceiling: 
And you're finished:
I like putting the balloons in front of the zig zag streamers in different lengths. It's also easy to use this to make an arch over the banner. If your ceilings are high, obviously this wouldn't work well. But I think the overall look from the streamers and balloons looked great for Claire's birthday!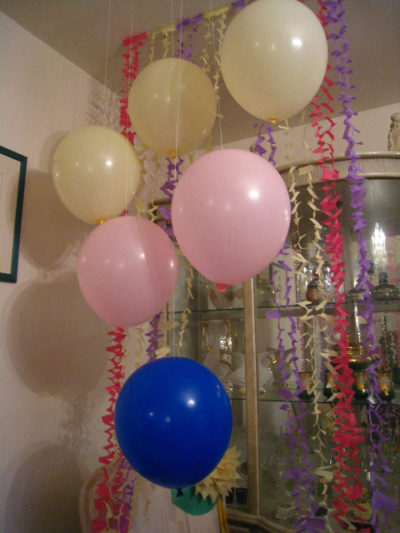 The Birthday Banner: 
I also made the banner myself out of scrapbook paper, ribbon, glue and printed out the letters. I cut circles out of the scrapbook paper, one that's larger than the other. Then used Elmer's glue to put them together, cut out the letters and glued them to the middle of the circles. I punched holes on both sides of the circle and connected each circle with beautiful ribbon. When picking patterned scrapbook paper, make sure the colors coordinate and keep the patterns to no more than four or five. Otherwise it tends to look a little mismatched.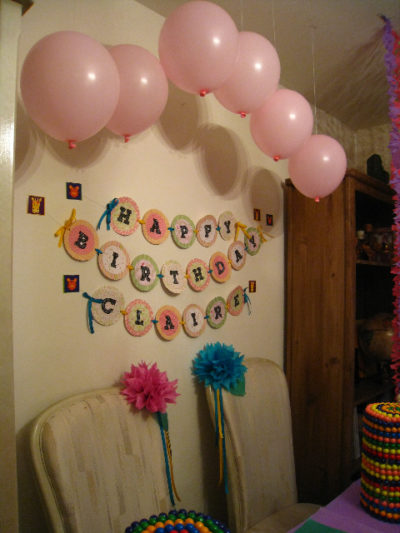 Tissue Paper:
Tissue paper is awesome and you can even buy it at the dollar store.  I definitely used it for the table and the chairs. I made Martha Stewart's Pom-Poms in a smaller size for the chairs, used green tissue paper to cut out leaves and ribbon that I used for the banner. It really brightened up the room and made each seat special.
I bought tissue paper to double as table cloth. The traditional Korean dress (hanbok) is very colorful and I wanted the table to show that as well. I wanted to incorporate Claire's favorite animal on each end of the table with ribbon wrapped around the giraffe's neck. The pillars that you see are traditional for a first birthday in Korea and I also made those. 
I hope everyone enjoyed how I decorated for Claire's birthday and helped those who need some DIY help with parties. I think this could work well for bridal and baby showers. I just want to say a huge thank you to my SIL for being such a wonderful loving sister and to Claire for making this Auntie incredibly happy! 
---
About the Author:
Annie is a classical musician, who was in a rock band (http://bit.ly/gagamtv), then turned crafter. Music is and always has been a love of her life but crochet is a new love. Based in the New York City area for the past 9 years, she has recently moved to Shanghai, China. Please visit her blog at http://anniegurumi.wordpress.com
You may also like: