Amanda hails from one of my favorite home decor & renovation blogs, Love & Renovations. (I swear they're going to be the next Young House Love!) I was extremely excited when she agreed to write a guest post…and was very pleasantly surprised to discover that she is a closet video game geek!
Here, she writes about three of her favorite video games, the last of which I have never heard of and am quite tempted to play myself after reading her glowing review! Enjoy!
---
When Jenny first said she was looking for guest bloggers while she was out having her baby (!!), I immediately jumped at the chance. I'm completely addicted to Geek in Heels and love reading, so I was honored to have the chance to write a post for her blog.
Of course, once I got over the excitement, I quickly realized that I write a blog about home decor and renovations — not exactly Geek in Heels material! I spent some time looking through some of Jenny's past posts and while I was noticing all of her references to old-school video games, inspiration struck.
You see, I'm a total geek when it comes to video games. It's not something many people know about me, as I don't play them often. But, when I am hit with the mood to play, it hits me hard. I have some serious love for some seriously geeky games, and I never really get a chance to parade my geek love around on my own blog. However, my video game love is a pretty big part of me, so I'm excited to get to share it — and hopefully find some people who share the same video game addictions that I do!
All three of these game addictions started when I was in elementary school, and they never quite went away. First up? My absolute favorite game ever created:

(source)
Oh, Link. Didn't every little girl grow up with a major crush on him? Just me?
I love this game more than I can say, and I've honestly lost count of how many times I have played it. Ocarina of Time is one of those games that just never gets old, and is completely addicting no matter how much you grow up. My favorite part is still the moment when you steal Epona from Lon Lon Ranch, and the boss at the end of the Water Temple will always make me shriek when he pulls me underwater as I am trying to beat him.
This was the first Zelda game I ever played, and it sparked an addiction that will never end — I have played every Zelda game that has come out in the years since Ocarina of Time, and I'm anxiously awaiting the release of the new Zelda game this November.
This next game is one that I've played on and off for as long as I can remember, and is a game that I (embarrassingly) still buy every expansion pack for as it comes out.

(source)
I know very few people in my generation who were not addicted to The Sims at one point or another. Who doesn't remember killing off their sims by trapping them in the pool, or spending half your day trying to make enough friends in order to get that promotion you've been working so hard for? My favorite part of The Sims was always building houses — I could spend half a day building and furnishing a house for my sims, which probably explains my unending love for renovating and decorating my own home now.
I have vivid memories of my cousin and I playing hours upon hours of the original Sims game at my grandparents' house when we were kids. I've kept up with this game over the years and still have the most current one — and I still play it more than I would like to admit! Of course, now that I have a 10 year old niece who loves the game as much as I do, I have slightly more of an excuse when she comes over to play it with me. 😉
And last, but absolutely not least, is a game that's not nearly as well-known as the last two, but is just as amazing.

(source)
I don't remember exactly how or when I got hooked on this game, but I recently re-discovered it on Amazon and eagerly snatched it up. It took several days for my husband and I to figure out a way to play it on our computers, since the software is so outdated that our computers weren't even sure what to do with it. Luckily, my brother-in-law owns his own computer repair company and had an ancient laptop sitting around that he let me borrow.
I must have played it more than I realized as a kid, because even though it had been at least 10 years since I had played the game, I could still quote along with most of the characters you talk to throughout the game, and could navigate my way around the ship with my eyes closed if I needed to.
Titanic is one of the most complex games I've ever played, and also one of the hardest. You're plopped down in the ship on the night of its sinking, with a mission to recover a priceless book. You can wander around the (extremely detailed) ship and speak to many different people, and the game has several different outcomes depending on how well you do on your mission. It's one of the most well-created games I've ever seen, and I'd recommend it to anyone who is as geeky when it comes to these old games as I am.
I have to admit,  I feel a bit silly sometimes when I have to admit to my friends that I still play the same video games I played when I was 12, but I've learned to embrace my geek-dom. Of course, it helps that my husband is a complete enabler and is more than happy to spend an afternoon on the couch with me navigating the town of Hyrule or the decks of the Titanic.
Do you still play any of the games you played growing up? Are there any games that you miss?
---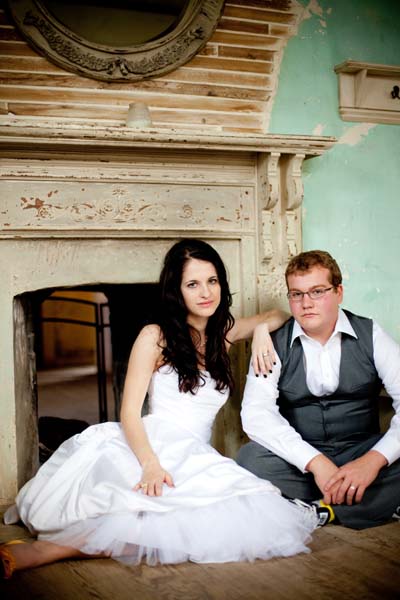 About the Author:
I'm Amanda, a newlywed and brand new homeowner from Austin, Texas. I love to renovate old furniture, update my home, and blog about it all along the way. I (and sometimes my husband, Corey) blog over at Love & Renovations about our homeownership adventures, and all of the little tweaks we're making to our home.
You may also like: