Today's guest post comes from none other than Serena of Big Apple Nosh. Here, she shares with us a recipe for…mushrooms on a stick??! I know it sounds a bit kooky, but wait until you see the delectable ingredients and the mouthwatering pictures! I'd take these over regular lollipops any day! Enjoy!
---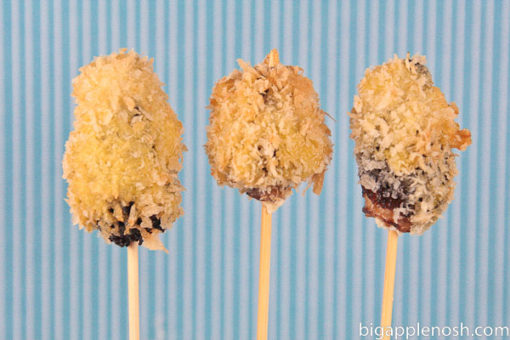 Earlier this year, Marx Foods hosted its 3rd annual Morel Recipe Challenge – the task at hand? Create a delectable hors d'oeuvres featuring this mycological delight. For this challenge, I decided to combine four of my favorite hors d' oeuvres qualities – fried, cheesy, and on-a-stick. Using the dried morels as well as dill pollen also from Marx Foods, I created these Morel Lollipops. As a last minute add-on, I decided to accompany the lollipops with Garlic Truffle Aioli, using truffle sea salt also from Marx Foods. I know if I passed by a tray of these during a cocktail hour, I'd grab two (or five)!
You will need:
Morel Lollipops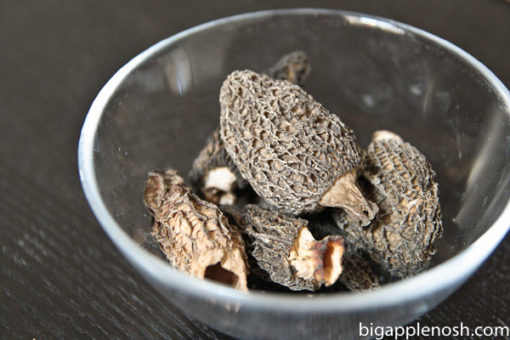 8 large dried morel mushrooms
8 tbsp goat cheese
4 tsp dill pollen
2 cups panko bread crumbs
1 egg (forgot to include in the picture, oops!)
Oil for frying (I used canola)
Bamboo Skewers
1. First, reconstitute the dried morels per Marx Food's directions. Strain reconstituted mushrooms, pat dry with a paper towel, and remove the stems.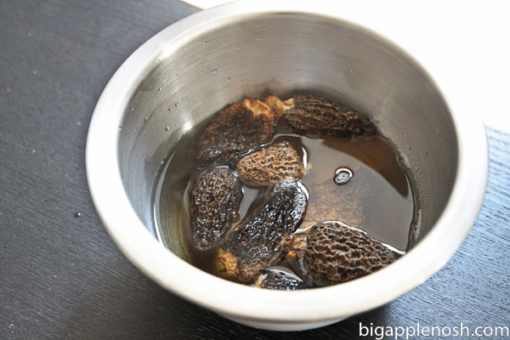 2.With a spoon, combine goat cheese and dill pollen in a small dish.
3. Using my oh-so-technical method, transfer goat cheese mixture to a Ziploc bag. Cut a small corner of the filled bag,  and use this makeshift pastry bag to fill the mushrooms with cheese.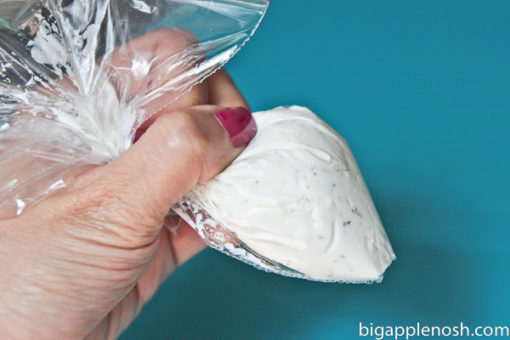 4. Skewer each cheesy mushroom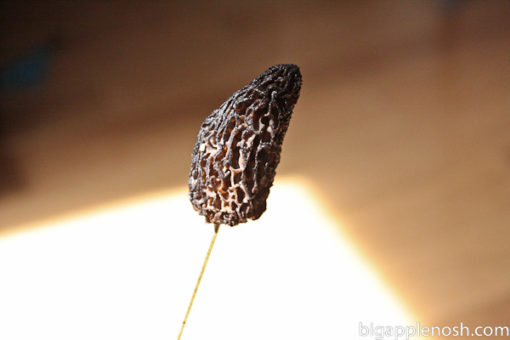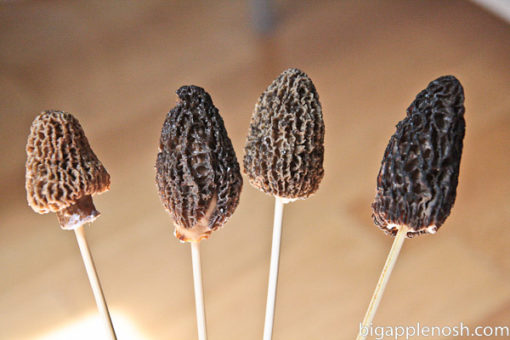 5. Beat egg in small bowl, and spread panko crumbs on a plate. Dip each lollipop in the egg mixture and then roll in panko crumbs.
If you like an extra crunch, you can re-dip in the egg and re-crumb. You will get this: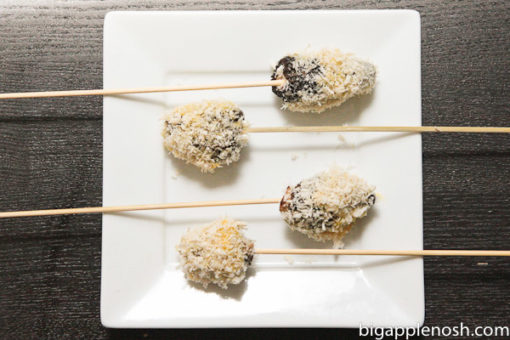 6. Heat oil in heavy-duty pot or pan. Fry each battered lollipop until light golden. Careful, oil is hot (duh)
7. Rest lollipops on paper towels. Serve while hot!
Served hot, these lollipops are rich, meaty and scrumptious on their own. If you'd like a little dipping action, however – you can put together a simple garlic truffle aioli:
Garlic Tuffle Aioli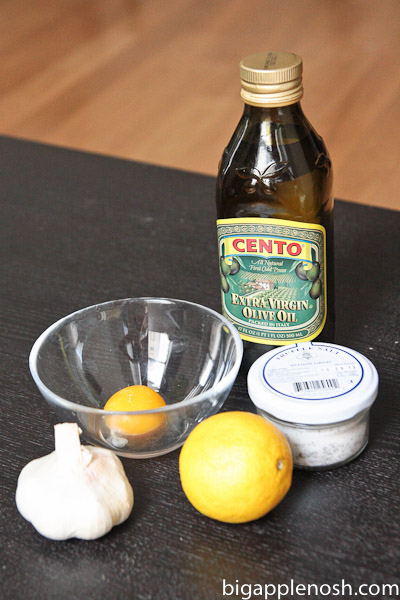 1 egg yolk, room temperature
1 tsp lemon juice
1 cup of extra virgin olive oil
2 cloves garlic, crushed and minced
1/2 tsp truffle salt
1. Whisk egg yolk, 1/4 tsp of truffle salt, and lemon juice by hand or …whirr? (you know what I mean) with a food processor.
2.  While whisking or whirring, drizzle in olive oil 1 tsp at a time, allowing it to emulsify. The key here is slow and steady! If you take your time, you'll see the aioli start to come together.
3. Once aioli has reached desired consistency (should be like a thin mayonnaise), turn off food processor and add in minced garlic until well combined.
4. If desired, finish with more truffle salt.
Have you had savory lollipops before? What kind?
---
About the Author:
Serena grew up thirty minutes outside of New York City and has lived in Manhattan for the past 12 years. A strict follower of the "NYC Diet" of convenience, hole-in-the-wall joints and fine dining, she is on constant lookout for the next hidden gem. Her family learned of her passion for food early on, when she finished her baby food in record time (6 months old), woke her mother up for a midnight banana (2 years old), and came home from school with her lunchbox full of Jello (6 years old). Serena first created a DIY pizza tour itinerary for visiting friends four years ago. She has since organized food tours for friends and family, focusing on cuisine as varied as soul food, cupcakes, vegetarian dim sum, and allergy-aware establishments. 
You may also like: