The following guest post touches on a subject that is dear to my heart. And that, of course, is food. 
I currently have both my own mother and my MIL cooking up storms of healthy, post-partum food for me but I can't deny that I miss having the occasional treat. And these brownies look so fantastically delicious — and simple to make! — that I may just have to send J out for a brownie mix run…yum!
---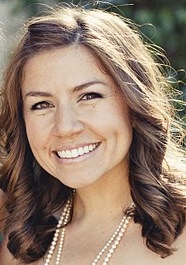 Hellooo friends. My name is Brandi and I met Jenny when we were both blogging over at Weddingbee (Espresso here). I'm a southern California transplant living in Wyoming with my amazing husband and adorable, bird crazy dog. I run a bridal accessories shop by day, blog by night, and hike to supplement my baking addiction on the weekends. Thanks for not running away yet…
So let's get down to the heart of the matter:
Baking… Brownies… Battlestar Gallactica. Sorry I couldn't resist. Just like I can never resist making these super delicious and super easy Peanut Butter Cup Brownies. They're flaky, moist, and chewy. They're amazing, and there are seriously only 2 steps… which is great for the time challenged like myself. Enjoy…
All you need is a box of this:
And 16 of these:
Follow the directions on the box, and once you've poured half the batter into the pan, throw in the 16 Reeses' Peanut Butter Cups (unwrapped of course), and then the remaining half of the batter on top of them. Cook for the time directed on the box, and you'll have this gooey goodness: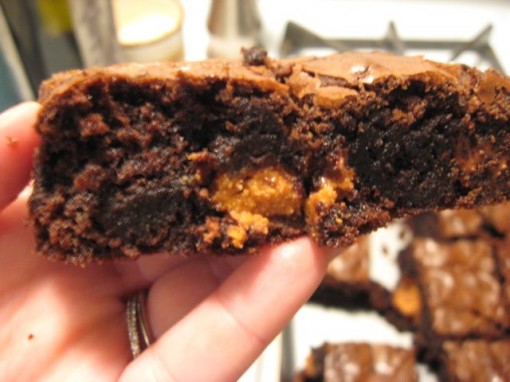 Enjoy!
Recipe by Katie Lee