In submitting an additional entry to Trupanion's Pawliday Blog Contest, I could've listed all the ways in which Comang is such an exceptional dog. How our friends, vet, and groomer constantly tell us that he's one of the best-behaved dogs they've ever met. How he never fails to make me feel like I'm the only one who matters to him. How he motivates me to keep going, even through bouts of depression, family deaths, a miscarriage, and other turmoils.
But then I realized that I would be writing a tome, and the contest stipulates that an entry cannot exceed 700 words.

So in light of the recent blizzard here in the northeast, I've decided to edit and combine a couple of posts from last winter. Because as much as I hate taking our dog out in the cold harsh winter, this is how Comang makes it all worthwhile. And it's moments like these that remind me once again how our dog's love is such a precious gift…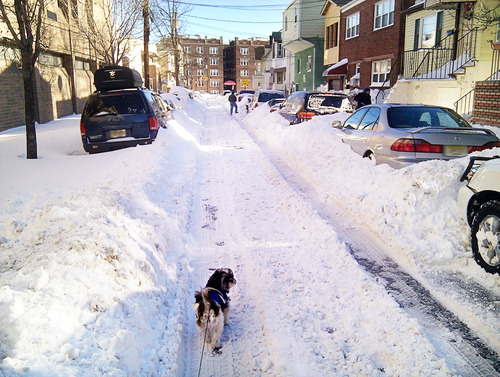 Walking Comang this morning, after what they've dubbed the "Christmas Blizzard of 2010"
As with most dog owners, I usually do not like walking Comang in bad weather. Precipitation usually requires that I juggle an umbrella and a leash while picking up doggy poo that may or may not already be a watery mess on the sidewalk. My shoes and socks get soaking wet. The apartment fills with the ever-so-delightful scent of eau de wet dog for hours afterwards.
And Comang never seems to deviate from the chart below:
While most dog owners love taking their pets out in the snow, I consider it a chore because Comang doesn't seem to like snow much. How can he, when he seems to be missing the gene or the skill that allows him to gracefully skim over ice? Or the ability to stay afloat and not sink into a foot of snow, unable to escape?
However, a part of me loves walking him in the snow.
Because as we near the end of the walk, his excitement at being outside dissipates and his joyful trots turn into slow, hesitant steps. His little paws and stout legs become downtrodden from the wet snow as coldness seeps in.
He stops.
I tug at his leash.
He refuses to budge. He lifts up one paw and gives me the most pathetic look you can imagine.
His eyes plead with me. "Mommy, will you carry me home?"
I gladly lift him up and carry him back.
You may also like: