Every Apple fan has two events to look forward to every year: Macworld in January, and WWDC in June.
Very often at these conferences, the keynote will be delivered by none other than Steve Jobs himself, announcing drool-worthy products and upgrades. Even those who are not in the industry travel from across the world to attend these events, just for a chance to be present at the world release of the next "it" product, to mingle with fellow MacHeads, and revel in the presence of some of the greatest minds in the world of Apple.
Yes, attending a Macworld (and sitting in on a Steve Jobs keynote) is on my list of things to do before I die.
This Joy of Tech from 2001 illustrates the fervor magnificently: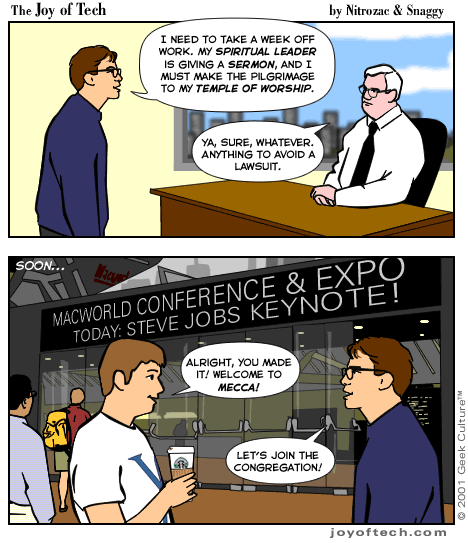 With this year's WWDC coming up just next week, there has obviously been a lot of speculation about what Steve will reveal during his keynote. Will it be the 3G iPhone? An update to the MacBook/MacBook Pro lines?
The latest rumor is that Apple will debut the latest build of its operating system, Mac OS X 10.6. TUAW predicts that "10.6 will not include any new significant features from 10.5; instead, Apple is focusing solely on 'stability and security'."
If this report holds true, I welcome the news with open arms.
I personally think it's a great strategy.
My first Mac, a PowerBook G4, ran 10.3 (nicknamed "Panther") and I actually waited in line at the local Apple store for the release of 10.4 Tiger. I've since gotten two new Macs – an iMac and a MacBook Pro – and faithfully upgraded to 10.5 Leopard in the process.
As much as I love my Macs, I have to say that the latest versions of Mac OS X haven't been as stable as my original 10.3 Panther. Was it the transition from PowerPC to Intel? Was it the addition of new features such as Dashboard, Stacks, and Spaces?
Mac OS X is still far superior to Windows XP or Vista. However, the occasional bugs make me long for the days of my PowerPC 10.3 which stayed true and loyal and STABLE.
I'll keep my fingers crossed until next week…
You may also like: