Have you heard of ChaCha? It is a mobile answering service. Want to make reservations at a restaurant but you don't have their number? Need to find movie times? Have a curiously nagging yet random question you want answered right away? Just call 800-2ChaCha or text your question to 242242 and receive a text response (from a live person) in just a few minutes!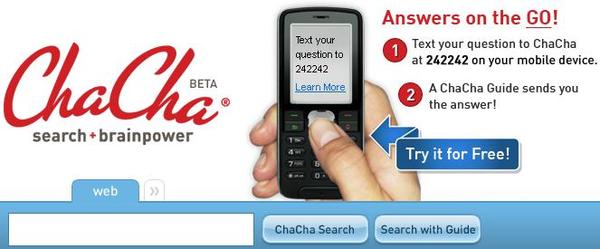 (image via HackCollege)
The best part is, ChaCha is free (aside from texting fees from your mobile carrier) – at the time, the company relies on ads for their income.
When I heard that ChaCha is hiring guides, aka the human counterparts, for their service, I immediately perked up. Guides are paid $0.10 per completed answer. It's not a great source of income, but a source of supplemental cash nonetheless. In addition, I would be researching and learning new material every time I perform a search for a customer…sign me up!
After reading through training material and going through an initial test, I was pretty excited. The test questions were interesting, and a couple were actually pretty difficult to find on the web. My brain tickled with joy as more and more useless (but stimulating) trivia entered my pool of knowledge.
A couple of days later, I received notification that I had passed the test. I was now a ChaCha guide!
Now I'll try to be as subjective as possible here. The training material warned about pranks and jokes as well as sexually explicit or offensive questions, and offered guidance on how to handle these queries. However, I was greatly discouraged to see that the majority of questions I received in my first week were, for a lack of better words, a waste of time. Here are some of the questions that stand out in my mind:
How can I get a guy to like me?

You guys rock!

whats ur favorite position?

Are you a democrat or republican?

Is the police aloud to spread your butt cheeks??
As you can see, some weren't questions at all. Others were very open-ended questions, while some were very sexually explicit. One question made me wonder if the person was seeking help on a school assignment, as it asked for an analysis on a poem. Many were spelled incorrectly, which makes me want to not take the person seriously at all.
I did receive some legitimate questions, such as inqueries for phone numbers. But these requests were far and few between.
I know that ChaCha has no control over what its customers do, so I do not blame them at all. However, I do not think I will be returning as a guide…as there are way too many people with too much time on their hands using its services.
I do want to state that I think ChaCha is a good concept – as such, I will be using them as a customer.
You may also like: