Update on the bloody mucous: I'm still spotting and cramping a bit, but it has definitely lessened so we won't be going to the ER. Needless to say, I didn't get much sleep last night. And since I am supposed to be taking it easy (and the nanny isn't available on Wednesdays), J took the day off from work today so that he could watch Claire and tend to my needs. I'm trying my best to rest, but I am having trouble falling asleep and staying asleep. As such, I am momentarily keeping myself busy on the interweb while I wait for my Unisom to kick in.
---
One bright side to having another girl — especially one so close in age to the first — is that we will not need to purchase many new baby items. I had always joked that if BebeDeux turns out to be a boy, we will dress him in Claire's old clothes in order to save money, but I knew that in reality, we would have passed down the non-unisex outfits and toys to J's cousin (who is expecting a girl this September).
Another big bonus is that BebeDeux will be born in the same season as Claire.  🙂
That being said, there are a few big items that we know we will need to purchase…
The first on our list is a new carseat. We will probably get a convertible carseat for Claire to use, and let BebeDeux use Claire's current infant carseat. According to my go-to book for baby purchases, the Britax Boulevard CS seems to be the best fit for our needs:
Sure, it is one of the more expensive convertible carseats on the market today. But it is also one of the higest-rated for safety, can be used up to 70 lbs, and fairy easy to use (from what I've read). We also figure that we can use one of the many 20% off coupons we receive from BRU when making the purchase later this summer.
The next item on our list is a stroller. We debated getting a separate stroller for BebeDeux, or even getting a double stroller for both babies.
Then we remembered that one of the reasons we had decided on our current stroller, the UPPAbaby Vista, is because you can add a Rumble Seat to it, like so: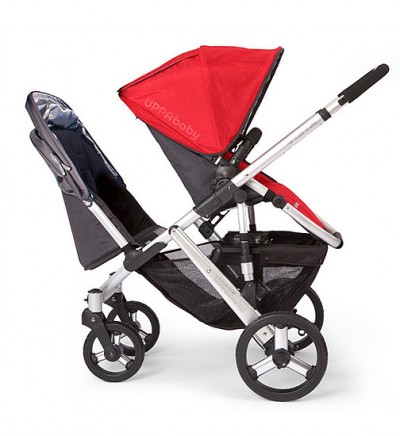 At first I was a bit hesitant — would Claire be content sitting on the bottom? If anything, I could see her kicking up at the BebeDeux!
I then took a look at the instruction manual and found the following page:
Until BebeDeux gets big enough, you can set it so that the babies face each other! Sold!
The last item on our list is a place for BebeDeux to sleep. We know that for the first couple of months of her life, she will sleep in Claire's old bassinet, but we have yet to decide what to do once she outgrows it. Claire's room is cramped enough as it is, so I doubt that we can fit another crib in there. I actually suggested that J and I take the smaller room and let the girls share the large master bedroom, but he vehemently refused.
So we will most likely end up having a crib or a Pack N Play in the living room or our bedroom, but we haven't decided yet. Either way, we will need to get rid of some furniture and move a bunch of stuff around. Obviously, we hadn't thought as far ahead to a second child when purchasing our 2-bedroom condo.  🙁
Several people have asked me if we will be having a baby shower for BebeDeux. I am currently on the "no" side of the fence on this one — I had thought that having a baby shower for a second/third/etc child is a faux-pas unless the children are far apart in age, or a different sex, no?
And while I believe that every child should be celebrated, I'm not sure that asking people to fork over more of their hard-earned money for a second time in two years is the best way to go about it.
J thinks that we should at least have a registry just in case anyone wants to buy us a gift (because not everything can be reused, and there are a few items here and there we did not have with Claire that we would like with BebeDeux), but I'm not sure about that either.
Perhaps a sip-and-see after the baby is born? What do you think?
You may also like: