I have been blogging for over a decade now, and in that time I have certainly received hurtful and/or hateful comments. I have had my share of trolls, personal messages from particularly irate readers, as well as (empty) threats.
At first they used to bother me. A lot.
But now, I find them quite amusing.
Does something that a complete stranger writes on their personal blog bother you so much that you feel the need to continually argue your point?
To refresh the page over 90 times in an hour to see if you had gotten a response? (Yes, someone actually did this to me quite a few times.)
To link to the offending post in an online forum or social media site to ask for reinforcements? (A militant atheist used to link to my blog whenever I wrote anything regarding my religious beliefs.)
I personally find that it is completely useless to argue with someone over the internet, let alone with someone whom you've never met. So you know my stance on the issue.  🙂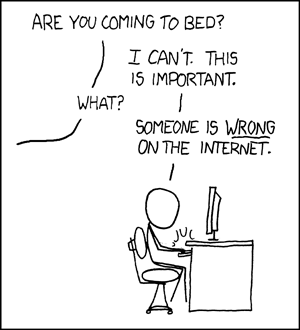 (via xkcd)
My favorites are, by far, the comments and emails that tell me that they will stop reading my blog. These are almost always from readers who have never interacted with me before — those who I never knew were reading in the first place — so I find it a bit comical that they expect me to get upset.
Perhaps these people think that by no longer reading this blog, they are no longer supporting me financially?
The truth of the matter is that although I have recently started to monetize my blog, I probably made in the last month what I used to make in one day when I worked full-time. So no, I can do without the money and I have done without the money all this time.
Do they stop reading other blogs over differences in opinions too? Because personally, there are many, many blogs and websites I frequent that often publishes content I disagree with politically, religiously, and even sometimes morally. But I continue to visit them because I find the majority of their content interesting and/or relevant to my needs. So I find it a bit difficult to understand why others can't do the same.
My friend Maya did a very thought-provoking post last month about Socially Conscious Shopping which sorta treads on this issue. How much do you really know about the inner workings of a company? How much do you really know about the blogger behind the blog?
I tend to share more about my life than the average person, but it is still only a slice of my life. So how do you know that I do not run a sex trafficking ring in my spare time? How do you know that I am not actually a 42-year-old man who has painstakingly created the "Geek in Heels" persona?
The answer is, you don't.
Look, I do not expect to change the world with this blog. I am well aware that I am just one lone voice amongst millions, and that this blogs holds very negligible to no power when it comes to influencing society, laws, popular opinion, and so forth.
What I share here are my personal thoughts, tidbits from my boring life, and amusing findings I discover online.
And as far as I can tell, I am quite within my rights to continue doing exactly what I've been doing. 

This post is not meant to dissuade people from posting disagreeable comments. I am perfectly fine with healthy debates where all parties stay respectful. Rather, this post is directed at those who insist that their opinions are right, no matter what, and will continually harrass and/or insult me or another commenter.
Why would they get so upset over the opinions of a perfect stranger?
How could they be so convinced that they have a blogger "figured out" when what they read is solely based on what the said blogger chose to share?
Do they react similarly when they find out that a friend or acquaintance holds differing opinions too, ie confront them and argue their point?
You may also like: