One of the many things I love about Squarespace is that it provides statistics that rival that of Google Analytics.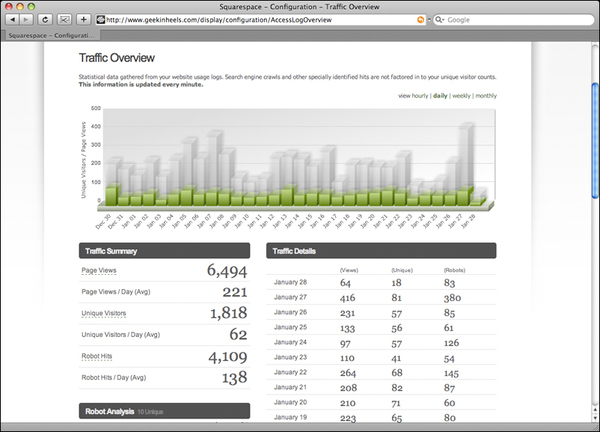 In addition to this "Traffic Overview" page (which is updated every minute!), there also exists pages for:
Referrers
Popular Content
Subscribers
Queries
Detailed Activity
Now I don't know about you, but I love finding out how visitors get to this site. And of particular interest is the "Queries" page, which details the page views I receive from search engines.
The top queries are typical of what I expect: "geek in heels," "geekinheels," etc.
However, when I scroll down to the bottom, I can always find some rather…unusual stuff.
"hot spicy heels gallery"
"man in heels gallery"
"hot huge boobs"
"bjs and heels"
And there are always at least a few hits from those who search for hot pictures of Jessica Alba (I'm guessing this stems from the bra post I wrote a few years ago).
According to What's My Blog Rated?, this site is rated an innocent G:
This cannot be accurate – I sometimes use swear words and talk about innapropriate topics on this blog. If I had to rate myself, I would give this site a PG…maybe even a PG-13.
And if my search engine queries are indicative of how people find this site, I might even rate an R, or an NC-17.
How do people find your site? What is your site rated?
You may also like: