One of the (many) things I love about NYC is the abundance of street and subway performers.
May it be a classically-trained prodigy giving an impromptu concert, a struggling musician performing for dollars (often with the wish that a record executive will "discover" them), or an out-of-luck bum drumming some beats on some upside-down plastic containers, you can bet that these performers add as much art and culture to the city as do those who play sold-out shows at Carnegie Hall.
Heck, even street salesmen are world-famous performers here!
This is precisely the reason I was so excited to read that NYC will soon follow in London and Sydney's footsteps to install street pianos in public places for anyone to sit down and tinkle out a tune.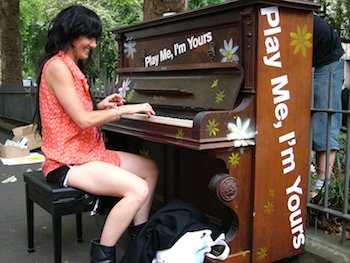 According to The Village Voice,
This … is a pretty wonderful idea. New Yorkers are a talented bunch! Think of all the impromptu cabaret sessions that could come out of this! The project — actually called "Play Me, I'm Yours" — and its pianos are coming around from June 21 to July 5. All the locations are here — Manhattan has 27 locations — but the pianos will be making their way around all five boroughs (from the Bronx Zoo to Flushing Meadows), so you'll likely cross paths with one at some point.
I can't wait to see the pianos around the city and see what the talented people of New York have up their sleeves! And if I'm feeling brave, I might even bang out some songs myself…
Do you play the piano?
If so, would you participate in the "Play Me, I'm Yours" project?

I wouldn't be afraid to participate, just as long as the piano is free and there isn't a long line. As for my repertoire…"November Rain" is a favorite "safety" song of mine, but if I were feeling particularly playful (or silly) I wouldn't be afraid to go with some Super Mario songs, or the theme from Forrest Gump. But then again, there's always the classical and sentimental "Clair de Lune."
What song(s) would you play?
You may also like: