I am a full week late, but here's a short recap!
We didn't actually see the film at the premiere. Apparently, none of the celebrities or Hollywood insiders actually watch the film at the premiere – they're mostly there for press, publicity, and the party. So on Monday evening, the night before the premiere, we attended a private screening of the film.
I loved it.
It was exactly my type of movie – cute, quirky, and fun. I was so, so proud of Marvin (the executive producer of the film) and thankful that I have the opportunity to work with such great talent.
The next night, Tuesday the 10th, was the night of the premiere.
(On a side note, thank you for your help on the dress selection! I did order the Bluefly dress and I liked it a lot. However, I found a BCBG dress that I liked slightly better, and it was a steal at 70% off! I ended up returning the Bluefly dress but if I weren't so cash-strapped I think I would've kept it for a future event.)
The party was held at the penthouse of the swanky Soho Grand hotel and it was an experience to say the least.
Outside the lobby was a small group of fans who were waiting for the stars to arrive. I felt a small adrenaline rush as we gave our name and security ushered us to the elevator. The space was smaller than I expected but still spectacular with gorgeous views that could not be beat. The cityscape was so mindblowing that we braved the freezing cold for a few minutes to stand outside on the terrace.
When the stars of the film finally arrived, I couldn't help but get giddy. However, I did my best to keep my cool. Unfortunately, I was a bit too star-struck to get photos with the stars (and I admit I didn't want to act like a total dork and go camera-happy) but I did manage to snap these of Marvin…
Tom Hanks was exactly how I expected him to be: very friendly and charming.
I kind of froze up around John Malkovich, because I am such a huge fan. He was a bit reserved but still very nice and polite.
Our little team: Marvin, me, and James.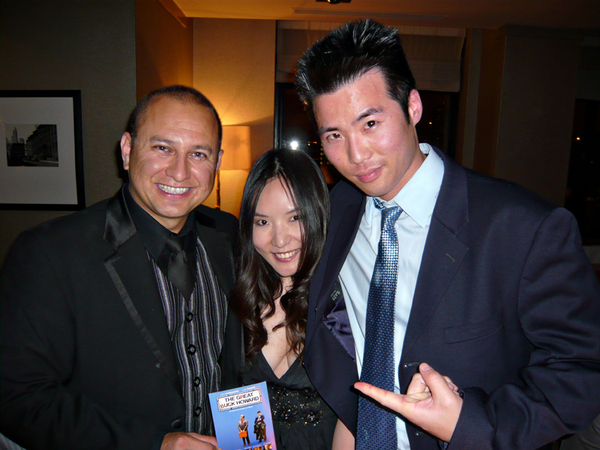 'The Great Buck Howard' opens this Friday the 20th! Go watch it – I highly recommend it!
You may also like: