Forbes has named New York Knicks fans the NBA's most loyal fans.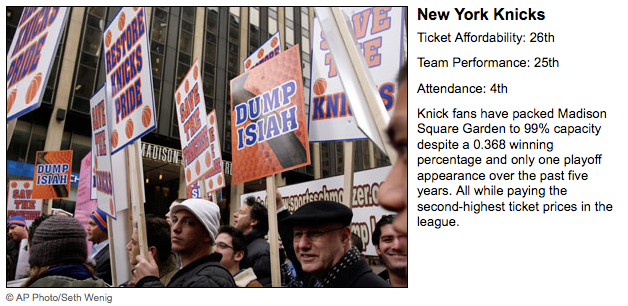 I admit that over the past few years I have wondered why I subject myself to this torture, even questioning if I were playing a sick game of S&M with my favorite sports team.
Forbes goes on to describe our misery in further detail:
How miserable have things been for Knick fans? How about an average record of 30-52, including a pair of 23-59 seasons, over the past five years? Then there's the series of off-the-court soap operas: respected veteran coach Larry Brown being hired and fired within one year; star guard Stephon Marbury feuding with coaches and now sitting out in street clothes as the team tries to trade him; and, of course, the embarrassing sexual harassment fiasco that ensnared (now former) President Isiah Thomas.

All this while charging the second-highest prices in the league. Still, the fans keep coming. Year after year, season ticket renewal rates check in at better than 90%.
Still, I have hope. The glory days shall return.
In other Knicks news, Allan Houston (my man!) has officially been given a front office position with the Knicks.
You may also like: