As much as I hate doing tourist activities, one of my favorite things to do when in a new city is to check out its museums. I chose to attend Johns Hopkins for its Art History program (most people are not aware that JHU has a great art history program – top 5 in the country – but unfortunately I decided to pursue another course of study). I still consider my 3 month summer internship at the Metropolitan Museum of Art one of the best experiences of my life.
Needless to say, I love museums. I love the hushed atmosphere, the beautiful architecture that usually accompanies them, and immersing myself in the works of geniuses (including nature) of the past, present, and future.
I'm fine perusing the hallways of museums alone; however it's always more fun with friends. Unfortunately, J could give a crap about museums, and not too many of my friends are into the arts.
I need a museum buddy.
Anyone interested in the following exhibits?
Superheroes: Fashion and Fantasy
The Metropolitan Museum of Art
through September 1
The symbolic and metaphorical associations between fashion and the superhero are explored in this compelling exhibition. Featuring movie costumes, avant-garde haute couture, and high-performance sportswear, it reveals how the superhero serves as the ultimate metaphor for fashion and its ability to empower and transform the human body. Objects are organized thematically around particular superheroes, whose movie costumes and superpowers are catalysts for the discussion of key concepts of superheroism and their expression in fashion.
(I will probably stop by the Met this Saturday the 30th since this exhibit is closing so soon.)
Vasily Kandinsky: Beginnings
Guggenheim Museum
ongoing
Perhaps more than any other 20th-century painter, Vasily Kandinsky has been closely linked to the history of the Solomon R. Guggenheim Foundation. Hilla Rebay—artist, art advisor, and the museum's first director—encouraged Solomon R. Guggenheim to begin collecting Kandinsky's work in 1929 and to then meet the artist for the first time at the Dessau Bauhaus in July 1930. This was the start of a period of continuous acquisition of paintings and watercolors by Kandinsky. The current installation of the Kandinsky Gallery explores the artist's early mastery of the graphic arts, as well as his translation of printmaking techniques to painting.
(I love Kandinsky! He's one of my favorite painters…I've love to see some of this earlier work up close and personal.)
Wunderkammer: A Century of Curiosities
Museum of Modern Art
through November 10

Wunderkammern, or cabinets of curiosities, arose in mid-sixteenth-century Europe as repositories for all manner of wondrous and exotic objects. In essence these collections—combining specimens, diagrams, and illustrations from many disciplines; marking the intersection of science and superstition; and drawing on natural, manmade, and artificial worlds—can be seen as the precursors to museums. This exhibition presents a contemporary interpretation of the traditional cabinet of curiosities, bringing together a diverse selection of works by twentieth- and twenty-first-century artists who have likewise felt the pull of unusual and extraordinary objects and phenomena. The works on display include prints, books, multiples, drawings, and photographs, with subjects ranging from architectural marvels and blueprints for impossible machines to oddities from the animal, vegetable, and mineral worlds. Featured artists include Hans Bellmer, Peter Blake, Louise Bourgeois, Max Ernst, and Damien Hirst, among others.
(Combining science and superstition? I'm there! Plus I'm sure it'll be very geeky.)
Japonisme in American Graphic Art, 1880–1920
Brooklyn Museum of Art
through October 12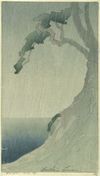 Japonisme in American Graphic Art, 1880–1920 explores the myriad manifestations of Japonisme in a selection of rarely seen American works on paper from the Brooklyn Museum's permanent collection. Concurrent with the so-called "Japan craze" in America was a renewed interest in graphic arts: as watercolor, pastel, etching, and other graphic media came to be appreciated for their artistry and expressivity, they also reflected the impact of Japanese art. Color woodcuts by late-eighteenth- and nineteenth-century masters such Hiroshige, Hokusai, and Kuniyoshi were avidly collected in the West and served as particularly influential models of stylistic and technical innovation for American artists.
(The last time I visited the Brooklyn Museum of Art was for its famous Murakami exhibition…and I loved not only the exhibit, but the entire museum itself. Definitely worth venturing out to Brooklyn.)
Progress
Whitney Museum of American Art
through November 30
Progress brings together works from the Whitney's permanent collection, highlighting connections between art and visions of utopia. In the early part of the twentieth century, artists and architects like Joseph Albers, Naum Gabo, and Frederick Kiesler carried the revolutionary aims of the European avant-garde to America. The utopian impulse of these artists found its parallel in America's optimism in developing new technology and the rise of consumer culture–advancements registered in the emergence of Minimalism and Pop Art in the 1950s and '60s.
This presentation includes works in a variety of media at once representing and critiquing the social and aesthetic goals of Modernism. Artists such as Dan Flavin, Ad Reinhardt, and Sherrie Levine recorded the myriad responses, both hopeful and critical, to the transformation in American culture brought on by the influx of utopian ideals. Other artists address the linear advancement of modernity from a distance, neither celebrating nor critiquing the changes it has brought, but tracking its effects over the passage of time. "Progress" also presents more recent works by artists including Paul Sietsema and Joel Sternfeld, who mine Modernism's utopian moments in order to gauge how the familiar narratives of progress in the United States continue to haunt and inspire contemporary experience.
(Visions of utopia through various media. This one looks very interesting but it may need to be saved for a time when I'm feeling particularly contemplative.)
The Full Figure and Portraiture 1926-1941
The Noguchi Museum
through February 15, 2009

The Noguchi Museum exhibits a full figure bronze sculpture, entitled Undine (Nadja), in its first public exhibition since the 1920s. Isamu Noguchi's unique vision emerged in response to the Western figurative traditions and techniques he experienced firsthand in the workshop of the sculptor Gutzon Borglum and through his mentor, Onorio Ruotolo. Organized around Undine, this exhibit also highlights a selection of portrait busts from the permanent collection which illustrate Noguchi's growing confidence owing to his formative academic training and a natural gift for incisive portraiture.
(I love Noguchi! Again, it'll be interesting to see some of his earlier works as influenced by Western training.)
It can be a PITA to look up all the new exhibitions at the various museums. Maybe I should start a NYC museum blog? Hmm…
You may also like: