I know I used to blog for a wedding community, but it's been more than 3.5 years since my wedding and frankly, the subject just doesn't interest me much anymore.
BUT.
Once in a while I come across pictures from certain weddings and I can't help but think, 'DANG! Why didn't we think of that? If only we were getting married again…'
(FYI, J and I have no intention whatsoever of renewing our vows. The first time around was stressful enough.)
Esther and Ryan's wedding is one prime example. Notsomuch the wedding itself (which I'm sure was awesome too), but the handmade invitations and the favors.
And can you guess why I love their invites and favors so much?
The title of this post says it all (duh). And get this — not only are they Super Mario-themed, they are designed after the original Super Mario Bros on the NES.
Feast your eyes on these, my fellow geeks…
The front of the "cartridge" is intricately detailed and well-thought-out: the "Tanouye" used in place of the Nintendo logo is the bride's maiden name; the "Watkins" in the Official Watkins Seal is the groom's last name; and 10-08-11 is the date the couple set for the wedding. Additionally, 10-08 was decided because it was a wordplay on the bride's last name.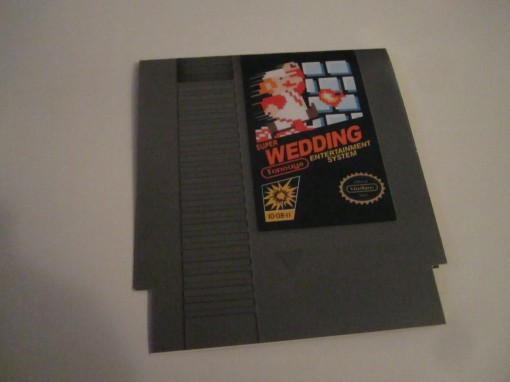 Once you open the invitation you are further delighted by little details…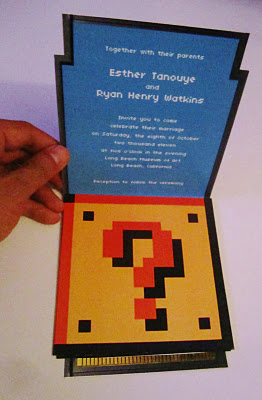 The three "block" inserts, when turned over, consist of: (1) the directions, (2) registry information, and (3) the RSVP card:
The inside of the invitation:
Even the back of the invitation stays true to the original NES cartridge, with some changes to the wording: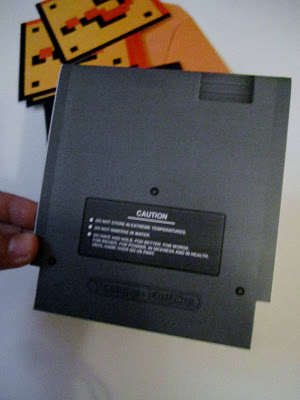 Don't you just LOVE it?!!!
Now, on to the wedding day favors which were laid out for each guest…
When you first open up the box, you are greeted with an adorable card:
The back of the card thanks the guest in 4 different languages, each representing the different ethnic groups represented by the the bride (½ Japanese, ½ Korean) and the groom (½ Caucasian ½ Mexican):
A second card kindly reminds the guest of which dish they had requested for the reception: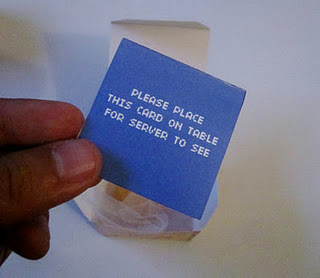 This is what you see if you chose the beef dish:
And this is what you see if you chose the vegetarian dish: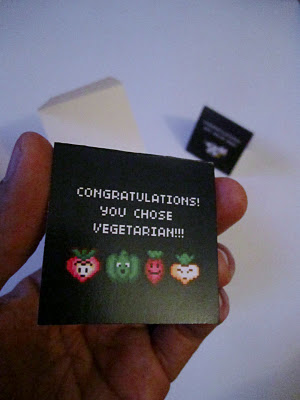 At the bottom of the box is a small pouch:
And it is filled with none other than gold coins! (Filled with chocolate candy, I presume.)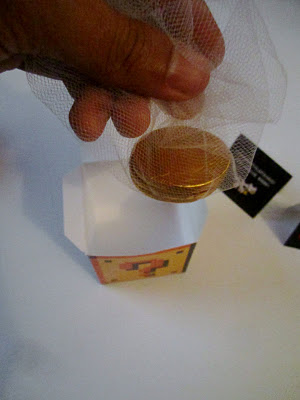 Wasn't that just about the cutest wedding favor you've ever seen? I soooo wish I were a guest at this wedding!
And just because the seating chart was also too awesome not to share:
See more details at Larry T Quach's Art Blog, who helped design and create these masterpieces!
Via Reddit.
You may also like: