Last month the skin on my face became extra dry and flaky. I immediately panicked, because this has never happened to me before.
Call it aging. Blame it on the harsh weather.
Whatever the reason, I knew that my regular moisturizer just wasn't cutting it anymore.
I dove into my bag of samples and found a sample bottle of Crème de la Mer. I had used it a couple of times when I first received the sample, but had found it too thick and rich for my tastes. However, I knew thick and rich was what I needed…
…and it worked! Within two days my skin was soft and supple. Not a dry spot or a flake to be seen. Hoorah! This really is a miracle cream!
However, the .24 oz bottle was small. What would happen when I ran out?
Ran out, I did, and my skin became dry and flaky again.
Was I willing to shell out $130 for a 1 oz bottle of face lotion?
I seriously contemplated. But in the end, it really wasn't worth it.
Back to the samples bag.
I found a tiny tube of Yu-Be Moisturizing Skin Cream. It was labeled, "The #1 Selling Medicated, Vitamin-Enriched Skin Care Cream in Japan — Since 1957."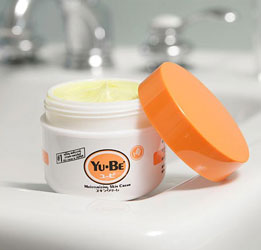 It healed my skin overnight.
Seriously! It's the shiznit!
The scent may bother some users, as it smells medicine-y like VapoRub. The texture is also a bit greasy, and I felt like I was rubbing melted ChapStick on my face. However, the scent disappears and the moisturizer just melts into your skin within a few minutes.
If you read through the reviews on Sephora most people seem to be using this stuff on their body. I use it on my face and I wake up to baby-soft skin every morning.
The best part? A 2.75 oz jar of this stuff is $24. Compare that to 2 oz of Crème de la Mer for $230.
Yes, I just compared the $24 Yu-Be to the $230 Crème de la Mer…
and you get more Yu-Be!
Go pick up a jar yourself at Sephora or at the Yu-Be online store!
You may also like: