Last week's The Office featured a Secret Santa exchange wherein Andy literally gifts his crush Erin the "12 Days of Christmas."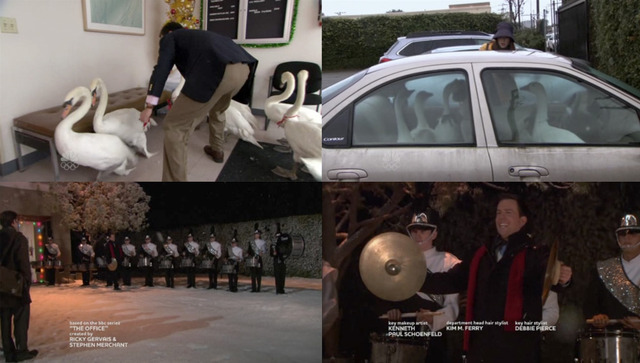 "Is it my fault that the first eight days is basically 30 birds?"
Despite the fact that Erin suffers quite a bit from the presents (ie, being attacked by French Hens), I found the thought and effort put behind the gifts absolutely adorable — from Andy's begging Dwight and Jim to get Erin as his Secret Santa, to the orchestration of the "twelve drummers drumming" at the end of the episode.
Most people would not go as all-out as Andy in celebration of the 12 Days of Christmas. However, I have found one company that can make the packaging of your twelve gifts just as special…
Twelve Days is a small startup from San Francisco, CA. We're a family business, inspired by one of our own Christmas traditions — celebrating the Twelve Days of Christmas by giving a small gift on each of the twelve days, December 26-January 6. For nearly 30 years, we've put small gifts in boxes that hang on our Christmas tree, with the recipient searching the tree for a box to open each day.

In Fall 2007 we decided to share our way of celebrating the Twelve Days with the world, and began the design process for our gift box sets. We chose to work with Design Packaging for their combination of luxury packaging design experience and in-house sourcing & production capabilities. They did a great job of guiding us through our first packaging design process.

Our Twelve Days gift box sets include 12 unique hanging gift boxes, a matching presentation box, a 40-page booklet on the surprisingly rich folklore & history of the Twelve Days, 12 decorative hangers, pre-cut tissue, and a fold-out gift giver's guide. It's a complete kit — all you have to add are 12 fun little gifts for your lucky recipient — and it's built to last for many years.

Coordinating design elements were used throughout to create a cohesive whole, from the 12 little boxes making up our logo to the distinctive foil-stamp pattern on the box sleeves, to the custom warm silver hue on the box wrap (the wrap is an embossed silver foil with custom a custom translucent color printed over it, and then matte-laminated for a smooth feel and durability). We sweated the details, and hope that it shows.
This gift set is so fantastically beautiful that it makes me yearn for Christmas decorations in my own house (we have decided not to do so in order to save money), just so I'd have an excuse to get them!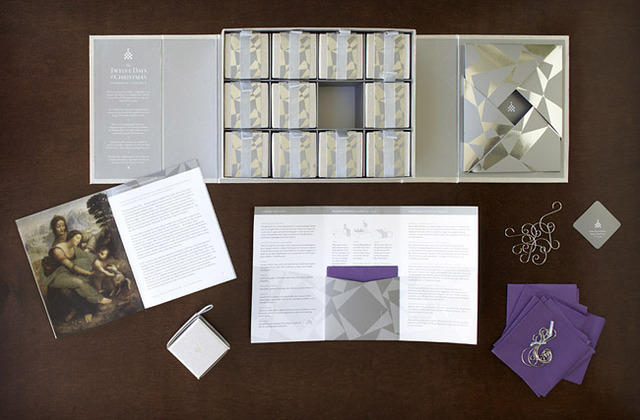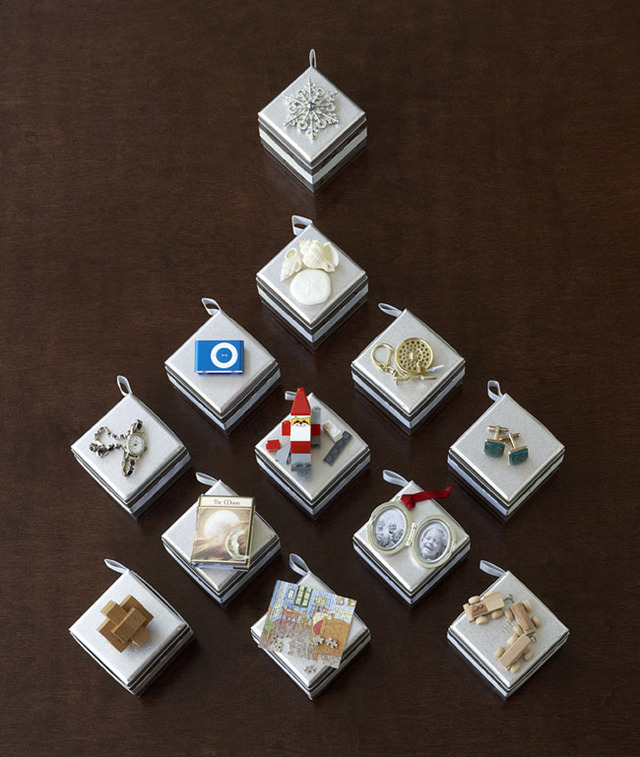 You may also like: