I have decided to take a holiday break from blogging. 🙂 So barring unforeseen circumstances, this will be my last entry until 2012.
I won't be completely offline though. You can still find me sporadically posting stuff on my Facebook Page, Pinterest, and Twitter.
But because I didn't want to keep you guys completely hanging for over a week…
And because my last BB Cream giveaway was so popular…
(And because everyone should have a chance at great skin in 2012… ;-))
I have decided to host another BB Cream giveaway!
And this time, you will have three chances to win as I will be
giving away three tubes of BB Creams!
And, just like last time, the winners will be able to choose a tube from the following six options: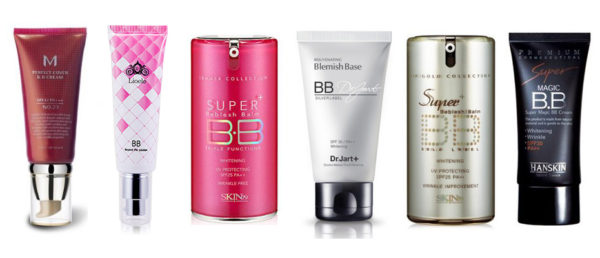 (from left to right:)
And if you would like more information on them, please feel free to refer back to my original post on BB Creams.
As a mother of "two under 2" I hardly wear makeup anymore, but when I do I only apply BB Cream and some lip stain. (If I have an additional 2 minutes I'll add some eyeliner and blush.) And sometimes, I use BB Cream not for the coverage but for its skin-enhancing properties.
If you can recall, my favorite used to be the Dr. Jart+ Silver Label for the oil control it provided. But my post-partum skin has been dry and flaky — not the oily cesspool that was my pregnancy skin. As a result, I have started to use MISSHA M Perfect Cover and it is perfect for my needs.
That being said, the SKIN79 Pink Label is the most popular of all my friends who use BB Cream. (And I am not just saying this because it's the cheapest of the bunch!)
And while I know that BB Creams are now starting to become available stateside at stores like Sephora, I have decided not to include those in the giveaway because I have read that they are not nearly as good as the BB Creams above.
In other words, I have gathered above some of the most popular
and best BB Creams in the market! And you have not only one,
but THREE chances to win!
Now, onto the giveaway!
As before, I will be using Rafflecopter to run this giveaway. Not sure how to use Rafflecopter? Watch this 45 second video for a tutorial on how to enter a giveaway using Rafflecopter. There are 5 methods of entry, with the first method (commenting on this blog post) being mandatory while the third method (Tweeting about the giveaway) can be used once per day:
The winner will be chosen randomly via Rafflecopter on January 1, 2012 and will be announced here then. The winners will be notified via an email or a Twitter DM, so please use a valid email and/or Twitter handle so that I can contact you if you win.
Good luck to all those to enter! Have a wonderful Christmas and a happy new year!
You may also like: