We've all seen the commercials. A doting spouse surprises his or her significant other with a brand new car for Christmas, complete with a big red bow on top.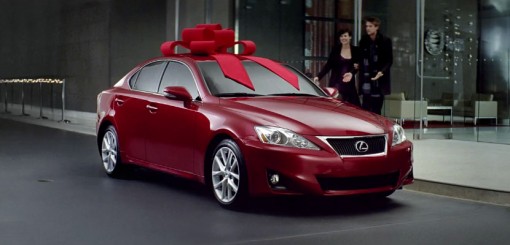 A screenshot from this year's "A December to Remember Sales Event" commercial
And if you're anything like me, you're probably thinking, "Does anyone actually do that?"
Apparently, yes — there is even a warehouse in California that stockpiles the iconic oversized red bows because the demand for them is so high! Granted, the article referenced is a bit old, but as Lexus's annual "December to Remember Sales Event" is ongoing, I highly doubt that this tradition of the financially privileged has expired in recent years.
I always told J that I would be pretty angry with him if he ever did this for me. Yes, the sentiment is nice, but to make such a big purchase without consulting me first — one that is surely to affect our financial future — is wrong in my eyes.
And I know that I can not the only one who thinks this way, because I saw the following strip from Dog House Diaries just this morning:
Would you ever purchase a car as a surprise present for your spouse? How would you react if your S.O. surprised you with a new car?
You may also like: