There are bag hags and shoe whores.
I am definitely the former.
J doesn't understand why I have an entire section of the closet devoted to my numerous bags. He still doesn't get the concept of dust bags –
"Why do you need a bag for a bag?"
"To keep my lovelies dust-free, silly."
"Can you at least sacrifice one shelf for my comic books and toys?"
"No."
Ain't marriage grand?
With my love for handbags and gadgets, it's a no-brainer that I love bags for my gadgets too. When I got a new MacBook Pro earlier this year, I searched high and low for a laptop bag that would stylishly house my baby. My top choice was The Minimalist by Zegari:
As much as I wanted to spring $300 for a laptop bag, I just couldn't afford it with the new condo and upcoming wedding. I decided to go the safe route with Acme Made, which IMO produces some of the best laptop bags around.
I went with The Trixy:
The brown with pink trim was sold out everywhere, but I put my googling skills to good use and found an obscure luggage store in Pennsylvania that carried it in my desired color and had it shipped to NY.
Today I read that Acme Made will be releasing a new bag for DLSRs in November. The camera bag will be shaped like a bowling bag and is aptly named "The Bowler". Lined with quilted satin with hidden side pockets and an adjustable padded divider, the bag is utterly and undeniably adorable.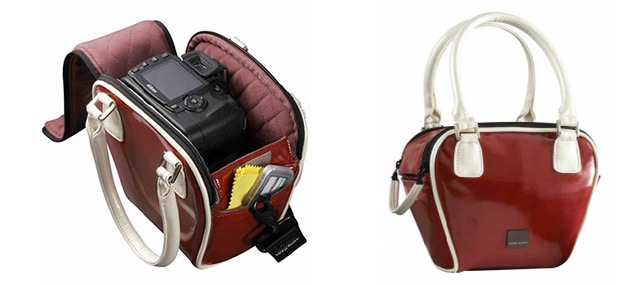 At $39.99, the price isn't a dealbreaker either.
(I don't have a DSLR yet, but I do plan on purchasing the Nikon D90 come Christmas time.)
Via Wired.
You may also like: