I once read that a baby will cry hardest to her mother (or the primary caretaker) because, just like adults, babies reserve their most passionate and deepest emotions for those they love most.
Our household is a perfect example of this.
When Claire is around me, she WILL make it known if she is displeased in the slightest bit. Whining, fussing, crying, tantrums, you name it. But when she is in the care of others she is more subdued and much less vocal.
She will also only take short naps when I am watching her — which I can only guess stems from her desire to spend as much waking time as possible with me. My SIL has the pleasure of getting 2-hour naps from Claire when she babysits. J? Upwards of three hours. I get one hour IF I am lucky.
This isn't to say that Claire only reserves her worst behavior for me. Because additionally, she will also share only with me some of her best. The rare smile even as she is teething and I know that she is in a considerable amount of discomfort. Perking up when she hears my voice. Following me around the room with her gaze even as others are showering her with attention.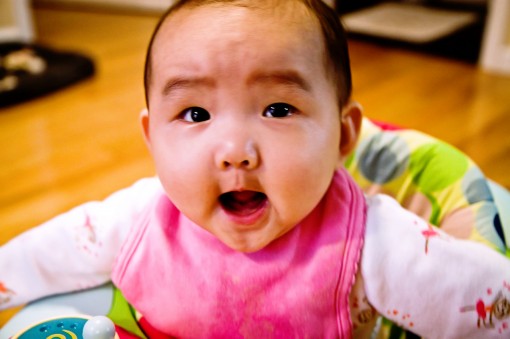 This is precisely the reason I look to the arrival of the new baby with trepidation. Not because I know it will be a lot of work (well, that too), but because I feel bad for Claire. I feel bad that I will not be able to devote all the love and attention she deserves at a time in her life — learning to walk and talk — when she will require so much of it. I feel bad that I may not be able to run to her immediate aid if she is upset or hurt. I even feel bad that I may not be able to throw her a nice 1st birthday party (me, the person who doesn't even like parties much) because I will be grossly pregnant and uncomfortable.
I fear that she will resent me.
My only hope is that because she loves me so, she will forgive me for all this. That she will realize that just because mommy has another baby in her arms does not mean she loves her any less. That she will still cherish every moment we share together.
You may also like: