Welcome to today's installment of Cool Tool Tuesdays, where I feature a favorite item from my life and spotlight it so that others who are not familiar with the product may also benefit from it. A cool tool can be any book, gadget, software, hardware, material, or website that I have personally tried and love.
Do you have any questions about today's cool tool? Would you like an item featured in the future? Please leave a comment to this post, or send me a message via my contact form. Enjoy!
---
I have always read that you should not shampoo your hair every day because daily washing strips your hair of beneficial oils and damages your locks. However, whenever I tried this trick, I ended up with greasy, lifeless hair that made me feel dirty and gross.
That's when I heard about dry shampoo. And today, I will be highlighting my favorite dry shampoo: the Oscar Blandi Pronto Invisible Volumizing Dry Shampoo Spray.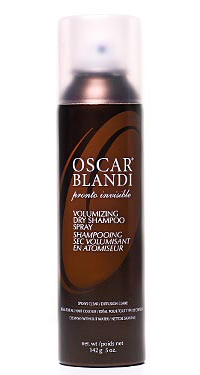 Dry shampoo is exactly what it sounds like: a product that helps keep you hair clean (or at least feeling clean) without the use of water. Dry shampoo technically does not cleanse; it uses powders which help absorb the oils in your hair.
I have tried several brands of dry shampoo in my quest to go shampoo-free every other day. Okay, fine — the real reason I sought a good dry shampoo was my desire for lazy hair. 😛
The different types of dry shampoo I have tried over the years are:
Suave Professionals Dry Shampoo Spray
Bumble and Bumble Black Hair Powder
Ojon Full Detox Rub-Out Dry Cleansing Spray
Oscar Blandi Pronto Dry Shampoo
Oscar Blandi Pronto Invisible Dry Shampoo Spray
I hated the strong scent of the Suave. The Bumble and Bumble left black splotches on my scalp, as well as my clothes and floor. The Ojon weighed my hair down. And while I loved the Oscar Blandi Pronto Dry Shampoo for the way it soaked up oil, I hated its messy powder application.
The Oscar Blandi Pronto Dry Shampoo has a spray version available, but I caught myself reaching for the Pronto Invisible Dry Shampoo Spray instead — the difference between the two is that the Invisible Dry Shampoo Spray is invisible, not white, and it is designed to boost your hair's volume.
The results? I now look forward to my in-between shampoo days because my hair looks, and performs better with the Oscar Blandi Pronto Invisible Dry Shampoo Spray. My hair has so much volume, and is much easier to style with the help of this dry shampoo…sometimes, I will even use it on clean hair when my hair is misbehaving because it helps texturize my hair just enough to help a style set!
The Oscar Blandi Pronto Invisible Dry Shampoo Spray is a bit on the expensive side at $23. But Sephora sells a travel-size version for $11, and you can always try it at a store before you choose to buy.
You may also like: