Welcome to today's installment of Cool Tool Tuesdays, where I feature a favorite item from my life and spotlight it so that others who are not familiar with the product may also benefit from it. A cool tool can be any book, gadget, software, hardware, material, or website that I have personally tried and love.
Do you have any questions about today's cool tool? Would you like an item featured in the future? Please leave a comment to this post, or send me a message via my contact form. Enjoy!
---
As I looked around my room to find inspiration for today's Cool Tool Tuesdays, my eyes rested on a pair of products I have never written about before — and I couldn't believe I haven't, because I have been using it diligently for the past five years!
This products are La Mer's The Powder loose powder and The Powder Brush.
I think that the reason I had failed to mention them in the past is because I do not consider it an essential part of my beauty routine. In other words, I — like most women — can certainly live without loose powder.
However, I believe that they deserve a post because they are the only beauty products, aside from  my beloved MAC Liquidlast liner, that I truly consider HG ("Holy Grail" in makeup talk) because I honestly have never found any product that even comes close.
La Mer's The Powder is one of the most finely-milled loose powders I have ever seen. It comes in four shades, including translucent (I use Crème), and it leaves a soft, luminous finish that is unparalleled: not too matte with just the teeniest amount of dewiness to make it look natural. In fact, many reviewers use the word "angelic" to describe the finish that The Powder gives you — and they're right!
The Powder Brush is a retractable brush that is designed for both pressed and loose powder application, and just like The Powder, many users seem to become smitten with it after just one use.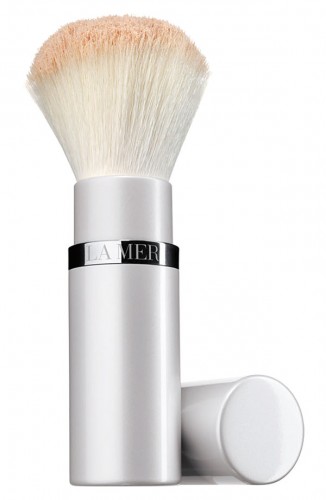 Now I'm not sure if The Powder would work just as well with another brush (I've never tried it with other brushes because I got them together and I don't own another powder brush), but I do know that The Powder Brush must at least play a small part in delivering the phenomenal result.
I like to use The Powder to set my makeup and add a finished look to my face. These days I'll use it over BB Cream and that works just fine — while The Brush is still retracted, I'll take the compacted, half-an-inch or so end of the brush that sticks out of the tube to dip into The Powder and pat under my eyes to ensure that my eye makeup stays in place. Then I will fully extend The Brush, apply more of The Powder and fluff it over my entire face.
The Powder is pretty expensive at $65 and The Powder Brush even more so at $75.  😯  But you know what? I am still using the same powder and brush I bought over five years ago. The Powder seriously seems to last forever, because even if I only used it once a week (and I know I've used it much more often than that), that's over 260 applications!
What's more, I still have 1/3 of a bottle left! 
The only complaint I have about either of the products is that The Brush's casing is not scratch resistant, and mine is covered in ugly scratches from the times I have traveled with it. But it still works fine, and that's what's important.
I highly recommend that everyone reading this go visit their closest La Mer counter and try these for themselves!
You may also like: