Every few months I receive the Johns Hopkins Magazine in the mail. I pore over each issue with a cup of joe, reading it cover to cover to keep afloat on the latest from my alma mater.
Who am I kidding? It usually ends up in the recycling bin, untouched.
And, like indigestion is sure to follow a night of over-indulgence at White Castle (aka the crack of fast food), a "special" letter from the JHU President trails the magazine within a few days.
A "special" letter asking for donations, that is.
I've always discarded these letters without much of a second glance — because let's face it, I didn't particularly like my experience at Hopkins, and my entire professional career has had nothing to do with what I studied there — but I decided to take a closer look and noticed something interesting.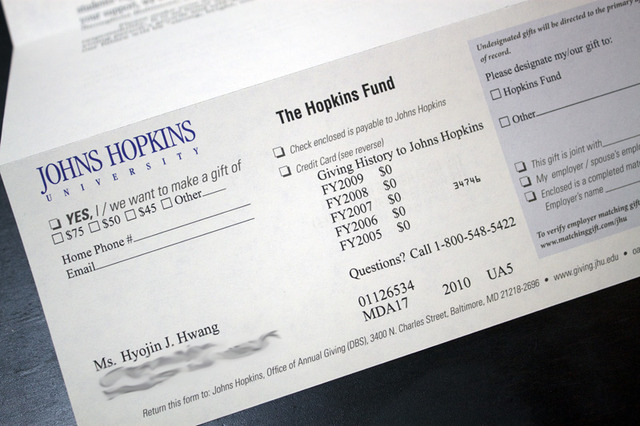 Do you see that in the middle? "Giving History to Johns Hopkins." And a little table of how much (or how little, in my case) I've donated over the years.
Is this their way of trying to guilt-trip me into paying up?
…because it's kinda working.
Unlucky for them, I've exceeded my charity budget for the quarter (thanks to all my heart-of-gold friends who are always walking/running/biking/selling to raise money for good causes and forever hounding me with emails). So perhaps I'll give it a go with the next round of mailings.
Do you donate money to your alma mater?
You may also like: