A few weeks ago I looked into procuring a larger safe deposit box to store our valuables and important documents, and I had a heckuva time finding one!
All the bank branches within a 15-mile radius had waiting lists at least a year long. And the CitiBank in Chinatown where we had been guaranteed a free safe deposit box when we first opened our account just prior to getting married? The waiting list was a staggering 3 YEARS.  😯
I could only think of two possible reasons for the sudden decrease in safe deposit availabilities:
People are starting to become smarter about their valuables; or
With the unstable economy, people are less inclined to invest their money in intangibles such as stocks and more in material assets such as gold.
It came to me as no surprise then, to read that some banks are now starting to charge for deposits.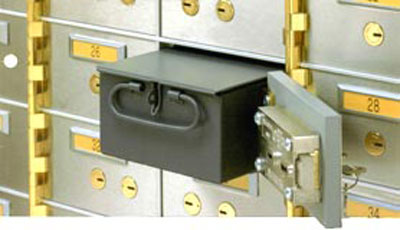 (image source)
Additionally, word around the Asian community is that many are renting safe deposit boxes to store cold, hard cash! While many banks have policies against storing cash in safe deposit boxes — not to mention the lack of any savings rate accural — keeping your Benjamins in safe deposit boxes ensures that your money stays under the radar of Uncle Sam's watchful eyes.
Now, the 3-year-long waiting list for a safe deposit box in Chinatown is starting to make sense!
Has anyone else noticed the lack of available safe deposits as of late? Would you ever keep cash in a safe deposit box?
You may also like: