I saw this over at Angry Asian Man, and it is too awesome not to share.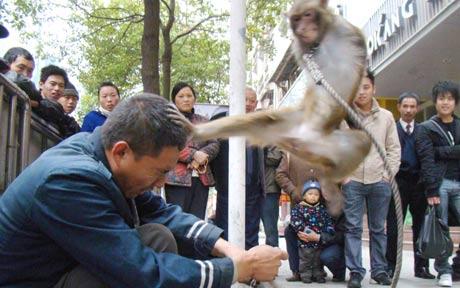 A man named Lo Wung trained a group of monkeys taekwondo to entertain crowds outside a shopping center in Nshi, in eastern China's Hubei province.
I think you already know where this is going: the monkeys turned on their trainer!
From Telegraph UK:
Hu Luang, 32, a bystander who photographed the incident, said: "I saw one punch him in the eye — he grabbed another by the ear and it responded by grabbing his nose. They were leaping and jumping all over the place. It was better than a Bruce Lee film."

At one point the monkey trainer grabbed a staff to hit the monkeys, only to find himself facing a stick-brandishing monkey that cracked him over the head.

He only managed to get the monkeys under control by tangling them up in the rope that had been used to stop them running off.

Mr Hu said: "He was really furious, he made the monkeys kneel on the ground with their hands tied behind their backs to punish them and make them show remorse for their nasty attack."
I always joke about Evil Ninja Monkeys (take a look at my footer), but THIS IS SO MUCH BETTER!
You may also like: