Meet Comang.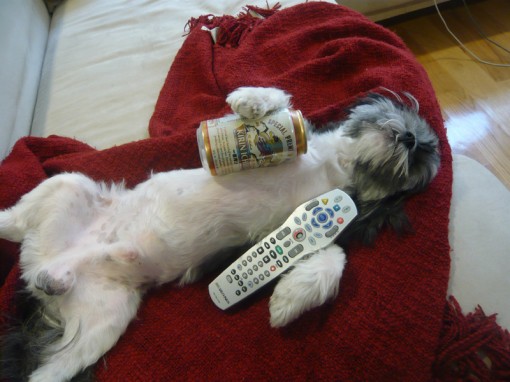 An old picture of our shih-tzu, before (like my husband likes to say)
his "manhood was taken away"
He may never pee or poop in the house. But he likes to leave his mark in other ways.
How? By smearing his eye boogers all over our walls and moldings.
I present to you exhibits A and B for your consideration:
We first discovered these markings a few months after we adopted him two years ago. It's a pretty smart move if you think about it — why use his clumsy and sharp-nail-filled paws to remove his eye boogers, when it's easier to drag the side of your face against the wall and the molding around each door?
But it's kinda gross too.
I cleaned our walls and moldings the best I could, and in order to discourage him from continuing this nasty habit I started to diligently clean his eyes every day.
But he continues to do this. I don't know if it's become a habit or what, but he refuses to stop (and many times, he'll do it while we are not looking).
Does anyone have any suggestions on how we can get him to stop?
And  if anyone can chime in with the best way to clean this solidified gunk from our walls and moldings, I'd really appreciate it too.  🙂
You may also like: