I thought I had seen them all when it came to the form that Korean skincare took in its packaging and delivery systems. Ampoules, serums, sherberts, and gels, oh my! Funny-looking patches (have you see this Instagram photo I posted the other night?) and even sheet masks made of sea kelp!
But how about a skin cleanser…wait for it…in the form of a powder?!??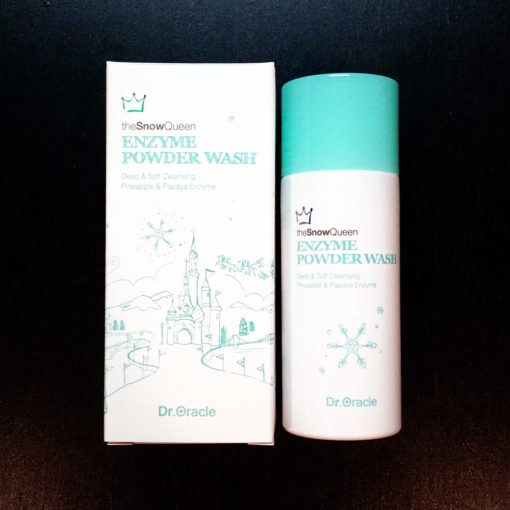 Doctor Oracle's The Snow Queen Enzyme Powder Wash is yet another innovative skincare product from Korea. This unique cleanser, formulated with pineapple and papaya-based enzymes and other beneficial botanicals (like antioxidant green-tea-leaf extract), is suitable for all skin types and is a gentle and effective way to cleanse your face.
So just how does one use a powder cleanser? Simple — just add water! Once the powder is "activated" by water, it immediately transforms into foam.
As you can see in the pictures above (courtesy of Glow Recipe's informative blog post), you can have complete control over the texture of the cleanser by adding less or more water. Use a 1:1 powder-to-water ratio for a traditionally creamy, foamy cleanse. Or, add just a few drops to create a paste mixture that will take advantage of the powder granules for an exfoliating treat. And of course, anything in-between is game!
My personal take on The Snow Queen Enzyme Powder Wash is that it cleans my face just as well as my other favorite Korean foam/gel cleansers. But the added benefit is exactly what I described in the paragraph above: I can change the texture as I see fit (i.e., if my skin feels dull or flaky that day, I will make a granule-y paste). It also doesn't hurt that I like to pretend I'm a chemist (or, if I'm feeling immature, a mad scientist) as I create the mixture. 

Glow Recipe describes another important benefit of The Snow Queen Enzyme Powder Wash here:
Why powder cleanser? Unlike many liquid cleansers, powder cleansers often require less preservatives and binding ingredients to stay fresh. This powder is also free of sodium lauryl & laureth sulfates, potentially skin irritating ingredients, often found in foaming cleansers. 
This powder wash removes makeup and impurities, without stripping even the most sensitive skins of essential moisture. Formulated with mineral-rich carbonated water, and papaya and pineapple enyzmes for skin turnaround, this travel-friendly cleanser provides a deep-cleanse while leaving skin soft and Ph-balanced. 
This product is free of parabens, mineral oils, sodium lauryl & laureth sulfates, as well as synthetic dyes. And, as is the case with all Glow Recipe curations, The Snow Queen Enzyme Powder Wash has been carefully tested and vetted according to their strict standards.
As if you need any further convincing, this cleanser is completely travel friendly! Just check out Self.com's feature "Don't Leave Home Without This Brilliant Face Wash." I only wish I had known about it when I took my trips to Seoul and LA last year!
And now, for the part you've all been waiting for…
Glow Recipe has generously donated a bottle of The Snow Queen Enzyme Powder Wash for one lucky Geek in Heels reader!
And, because so many of you entered my Mega Korean Skincare Samples Giveaway (and who doesn't like more free stuff?), I will be including SIX additional items with The Snow Queen Enzyme Powder Wash!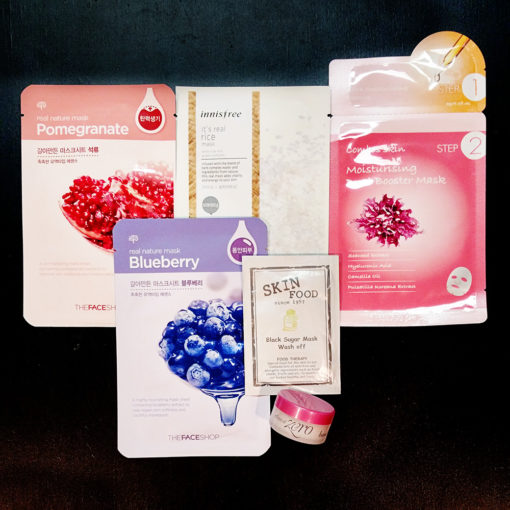 The Face Shop Real Nature Pomegranate sheet mask
The Face Shop Real Nature Blueberry sheet mask
Innisfree It's Real Rice Mask
Color Combos Moisturizing Dual Booster Mask
Skinfood Black Sugar Mask Wash Off (8g / 0.28oz sample)
Banila Co. Clean It Zero cleansing balm (7g / 0.25oz sample)
This is a great sample haul, if I do say so myself. The Face Shop offers some of the best affordable sheet masks IMO, and the Innisfree Rice Mask is my personal favorite brightening mask. The Dual Booster Mask is a special two-step sheet mask which includes an essence as the first step. The Skinfood Black Sugar Mask is supposedly a dupe for the popular (and much more expensive) Fresh Sugar Face Polish, and Banila Co. Clean It Zero is Korea's #1 cleansing balm.
All this in addition to the super gentle, remarkably effective, and ultra versatile Dr. Oracle The Snow Queen Enzyme Powder Wash!
To enter this giveaway, simply use the Rafflecopter widget below. Not sure how to use Rafflecopter? Watch this 52 second video for a tutorial on how to enter a giveaway using Rafflecopter. There are 7 methods of entry, with the first method (commenting on this blog post) being mandatory while the third method (Tweeting about the giveaway) can be used once per day:
This giveaway will end on Saturday, March 7th, 2015, at 12:01am EST, at which point a winner will be randomly chosen and announced here. If the winner has won the drawing via a questionable or illegitimate entry (i.e., not commenting on this post, using different accounts to enter multiple times, using a Twitter account that is only used to enter contests on a frequent basis, using the same Tweet URL to enter multiple times) I have the right to choose another winner.
Sorry, this giveaway is open only to residents of the U.S. and Canada who are over 13 years old.
Please use a valid email address and/or Twitter handle so that I can contact you if you win! If the winner fails to respond within 48 hours of my contacting them, another winner will be selected.
Good luck, and thank you for entering!
You may also like: