I'm a total movie nut and own hundreds and hundreds of DVDs. However, J has forbidden me from buying any more.
The problem lies in that we have a fairly large LCD television, 52″ to be exact.
So while my DVDs looked amazing on my old 27″ CRT television, the non-HD is very evident on our new TV, with massive pixelation and loss of detail.
We decided long ago that we will buy the best Blu-Ray player out there: the PS3. However, with both money and time being tight, we held off on this luxury purchase (which will eventually require more of our time and money).
Until now.
Like last year, Amazon will let it customers vote for the ultimate clearance items…and have the winning items be available at limited quantities to those who voted.
And this year, Round 1 of the voting consists of three PS3 bundles, each worth more than $550, down to $199 and $229.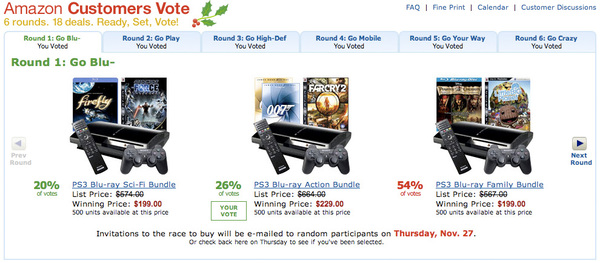 As you can see, I voted for the "Action Bundle," consisting of an 80GB PS3, the James Bond Blu-Ray Collection Six Pack, Far Cry 2, and the PS3 remote.
Only 500 people will be able to purchase this bundle at this price! Although I never win anything related to luck, I'm keeping my fingers crossed!
Go cast your own vote here.
You may also like: