New York may have its own Comic-Con (which unfortunately coincided with a new baby this year), but nothing can compare to the original and the best: San Diego Comic-Con. J and I always said that we will make a trip out to the West Coast one year to partake in its magnificence, but now that we have a baby it might be quite some time before we can do so. Perhaps we can make it a family trip when our kids are a bit older?
Fortunately, for the time being, I can live vicariously through other attendees like Jen who has offered to write a post on her Comic-Con experience. Enjoy!
---
Be honest, some of those reading this who have never been to Comic-Con are picturing people in ill-fitting costumes, arguing about the finer points of the mechanical operation of the Starship Enterprise*. Am I right? Well, hopefully, if you are reading Jenny's blog, you know that geeks come in a variety of packages, but the former can still be the widely-held perception.
I made the pilgrimage to San Diego this past July, and had an absolute blast. First of all, there are costumes, and some of them are absolutely amazing, either in the incredibly detailed recreations of existing costumes, or a clever play on a character, like the guys dressed as Boba Fett and Darth Vader, re-imagined as pimps. There are opportunities for fun photo ops abound, and if you like dressing up and creating costumes, you will never find a more appreciative audience than there.
In fact, being a part of the incredibly appreciative audience at Comic-Con was my favorite part about being there. I liken the experience to going to a fantastic movie on opening night, and gasping and cheering and laughing along with your fellow audience-members. Now, imagine that experience, but with thousands of people in the audience, and the actors and creators are there, in person, to give you the behind-the-scenes stories, their take on the characters, and maybe even a few hints about what's to come. You get to laugh and cheer and clap for them, and they are just as excited as you are, and in awe of all the attention and support. How often do TV and movie stars really get to experience a live audience?
One of my memorable moments was the experience of watching an episode of Eureka, since it aired the Friday night of the conference, with hundreds of other fans and several cast members who (surprise!) showed up to watch it with us. The amount of reaction when something funny or exciting happened was so much that it startled me several times! When you are used to watching something in your living room and all of sudden you are doing it with hundreds of others, it can be a little jarring, but also exhilarating. 
It was such a thrilling weekend in so many ways. Watching Stephen Moyer describe exactly how they got Lorena's head to turn all the way around in that scene was hilarious. Hearing Alan Ball (creator of True Blood) earnestly thank Charlaine Harris for creating Sookie Stackhouse's world was heartwarming. The roar was deafening when Joss Whedon officially announced that he would be directing The Avengers. Hearing the Mythbusters gang recount some great stories was a blast. Meeting Janet Evanovich, and being able to tell her in person that I think her Stephanie Plum novels are hilarious was great. Seeing the cast of Futurama do a live table read in their character voices was just icing on the cake.
Countless other cool things happened; it's impossible to experience all of them in one weekend. It makes all the line-waiting worth it.
I hope this helps to explain the cult phenomenon of Comic-Con a little better. It's really about being a fan, and that's not a bad thing.
*I have to say that I'm a big fan of Star Trek, so no offense intended to Trekkies
---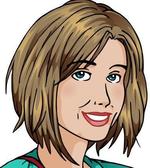 About the Author:
Jen is from Phoenix, AZ, where she lives with her husband and 2 cats. She loves reading, television, photography, design, Americana, and general geekery. You can find her blog at ataleof2monkeys.com and her photography shop at jelitan.etsy.com.
You may also like: