I had considered dressing Claire in a fun geeky costume this year for Halloween (this Yoda costume comes to mind) but a newborn who can't even support her own head takes some of the fun out of the process. Luckily, Stephanie came to the rescue — last time, she enthralled us with geeky Halloween costumes and she returns today with geeky Halloween costumes for babies. The only problem that remains is which costume to choose!
---
With a new geek coming into the world (plus at least 3 babies among my friends and family) I thought that a collection of sweet and/or awesome baby and toddler costumes would be fitting.
Though you could take the Martha Stewart route and turn your baby into some sort of delicious platter, I think a thoroughly clever and resourceful costume would fit the bill as well, don't you? Maybe a throwback to the wonder of Star Wars:

Princess Leia Hair Hat (and image) from Sew Can Do.

Or a Baby Yoda Hat found on Fanboy?
I personally appreciate the irony of these next two costumes: who doesn't love a classy baby?

If you did the tux, Mom, Dad and baby could wear a tuxedo shirt! Very classy.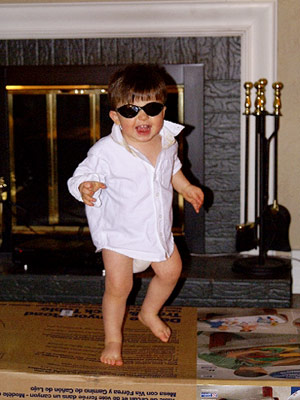 Babies are Risky Business (Tom would be proud, no?)!
The great thing about baby costumes is that they are, in effect, just miniatures of your favorite adult costumes (though one site I saw did say that babies already look like Yoda, so the ears just take the cake…). So something that I didn't list tickles your fancy? Shrinky-dink it and have the baby costume of your dreams.
But before I go; is that your baby vibrating?

Buy (or diy) a funny iPhone or iPod costume for your favorite techie baby.
You're decked out, your baby is decked out — it's time to party! Deliciously spooky treats are on their way.
---
About the Author:
Stephanie is a third year college student, splitting her time between her laptop and sewing machine (and of course school and work!). When she's not planning another do-it-yourself project, she catches up on what's new in the blog-world and regales readers with her latest creations and revelations via Real Fine Place. If you like clever projects, innovation and authenticity, she would love to meet you.
You may also like: