Writer's block. Lack of inspiration. They are the bane of any blogger's existence, and I must confess that they occasionally make me want to just throw in the towel too.
Today, Katie writes about how she finds inspiration and even gives us a few choice quotes that may help other bloggers tackle writer's block as well. Even if you're not a blogger or writer, I'm sure that you will find this post helpful and inspirational. Enjoy!
---
I'm excited to be guest posting for Jenny while she, J and Claire enjoy their first few weeks with little Aerin. I've known Jenny for three years now through her blog and really appreciate what she has to say on her blog about motherhood, her faith and her family, as well as her fun posts on tech and pop culture.

(image source)
I have been thinking a lot about writing lately — particularly, better developing my own writing style. I love to read well-written blogs, but I rarely put in the time or hard work to do it well myself. It's usually easier to skip writing the tough stuff and focus on the more trivial topics that take less effort to write. Good writing usually looks easy, but can be agonizingly hard work.
Blogging has always been a very personal writing medium, but I find it's difficult to balance remaining transparent, as well as keeping the interest of an audience of readers when trying to post multiple times a week. So I've been looking for ways to both keep writing inspiration coming, and to improve my abilities.
What inspires you guys to write?
I get really inspired by other bloggers who write about their lives honestly and candidly. I get inspired by reading great novels and by reading the Bible. I get inspired by time spent with loved ones and time spent alone, reflecting.
I also get inspired by the advice of experienced authors. I've been compiling a list of writing advice from some talented authors whenever I come across them, and I thought I'd share.

(image source)
CS Lewis
I love CS Lewis' advice because it is practical to all sorts of writing. He wrote the following tips in 1956 to a young girl who asked him for writing advice. (My personal favorite — and possibly the hardest to do – is #4)
"Always try to use the language so as to make quite clear what you mean and make sure your sentence couldn't mean anything else.
Always prefer the clean direct word to the long, vague one. Don't implement promises, but keep them.
Never use abstract nouns when concrete ones will do. If you mean "More people died" don't say "Mortality rose."
In writing, don't use adjectives which merely tell us how you want us to feel about the things you are describing. I mean, instead of telling us the thing is "terrible," describe it so that we'll be terrified. Don't say it was "delightful"; make us say "delightful" when we've read the description. You see, all those words (horrifying, wonderful, hideous, exquisite) are only like saying to your readers "Please, will you do my job for me."
Don't use words too big for the subject. Don't say "infinitely" when you mean "very"; otherwise you'll have no word left when you want to talk about something really infinite."
[Originally published in the collection, Letters to Children]
Flannery O'Connor
"I'm a full-time believer in writing habits…You may be able to do without them if you have genius but most of us only have talent and this is simply something that has to be assisted all the time by physical and mental habits or it dries up and blows away. Of course you have to make your habits in this conform to what you can do. I write only about two hours every day because that's all the energy I have, but I don't let anything interfere with those two hours, at the same time and the same place."
[Originally published in a volume of her letters entitled, The Habit of Being]
Ernest Hemingway
I recently finished the book, A Moveable Feast, a posthumously published memoir by Hemingway on which the recent novel The Paris Wife was based. In addition to talking about his years in Paris with his wife Hadley in the book, he also writes much about his writing processes. Hemingway believed there was no real formula for writing so he rarely gave advice on the topic, but his philosophy on writing is so refreshing.
"All you have to do is write one true sentence. Write the truest sentence that you know."
"My aim is to put down on paper what I see and what I feel in the best and simplest way."
Once, when Hemingway was challenged to tell a story using only six words, he said this:
"For sale: baby shoes, never used."
Jennifer Egan, via my friend Carly
"Don't write when it moves you — that's a loser. Try to make it habitual, even if you just start with 15 minutes a day, two pages a day. Make it such a part of your routine that not doing it makes it a stranger. You have to be willing to write badly. You can't say, 'I'm going to write habitually,' and it's going to be good. It's unpleasant to write badly, but it's much more important show up on a regular basis so that you're there when the good stuff comes."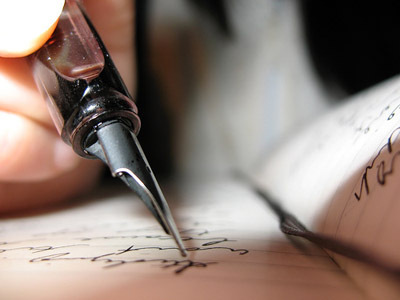 (image source)
I realize blogging is a different medium from what most of the authors above draw their experience from. But the takeaway for me? Write regularly, write honestly, and write what you know.
I've set a goal to write in my personal journal for 15 minutes every day to both record more personal anecdotes, and to be better at putting thoughts and words together. And I'll keep reading really good writing.
What moves you to write?
---
About the Author:
Hi! my name is Katie. I'm a wife, grad school admissions counselor, and coffee lover. I spend my free time cooking, blogging, reading, dressing up, and going on thrift store adventures. I blog about those things and more at my blog, LatteLove.
You may also like: