After visiting Harry Potter: The Exhibition in person, AND knowing that the final movie is due to be released in theaters in just a couple of months, I have slowly started to re-read the entire series again (probably for about the sixth time).
I don't know what it is about J.K. Rowling, but that woman can write. There is just so much to love about each book and I discover new things every time I re-read each title. I am usually not one to go with the crowds when it comes to current popular culture (I wholeheartedly agreed with Stephen King when he said, "Both Rowling and Meyer, they're speaking directly to young people…. The real difference is that Jo Rowling is a terrific writer and Stephenie Meyer can't write worth a darn. She's not very good.") but the HP series is one that I will gladly endorse and love over and over again.
For other HP fans who are eagerly awaiting the second part of Deathly Hallows, I invite you to take a look at these comics by illustrator Lucy Knisley. She has created poster-sized comics which chronicle abridged versions of each Harry Potter book. The Half-Blood Prince and The Deathly Hallows seem to be still in works, but the first five are cleverly rendered in a hilarious manner — or, as Nerd Approved puts it, they are "the fastest way to catch up on Harry Potter."
The first three posters are available for purchase in Lucy Kinsley's online store for $10 each. Click on each to view large, and enjoy!
The Sorcerer's Stone:
The Chamber of Secrets:
The Prisoner of Azkaban:
The Goblet of Fire: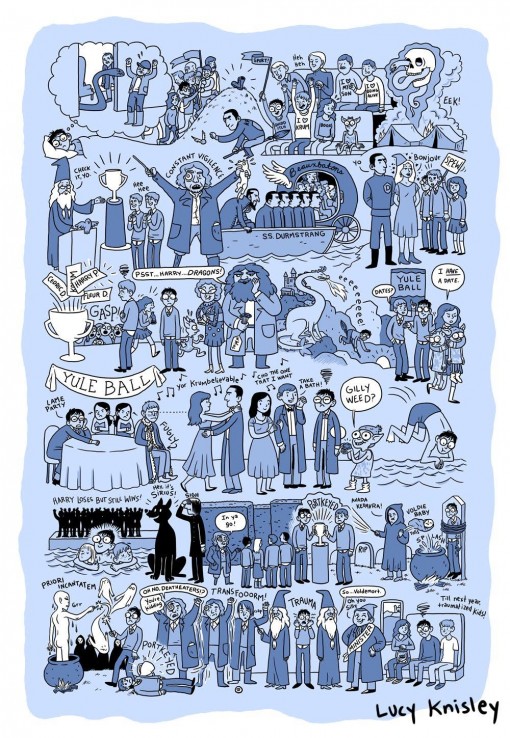 The Order of the Phoenix:
You may also like: