I used to dread cutting my children's nails.
I know that many mothers do it while their babies are asleep, but my kids sleep in dark rooms (with black-out curtains) so that idea is out. I also know some mom bite their babies' nails. Well, those moms must have really sharp teeth because I have found that practically impossible!
Confession: while attempting to clip their nails, I have cut into both Claire and Aerin's skin several times. And as any decent mother can tell you, making your own child bleed her own blood (anyone know what movie that's from? 😉 ) ranks up there with being covered in a thousand paper cuts and getting dipped in a vat of sweat.
But all that changed a couple of months ago when my mother saw me struggling to clip Aerin's nails…
"No, don't do it like that! Line up the bottom blade with her nail!"
And it clicked. Why hadn't I realized this before??! Because clipping my own nails had become so natural to me that I had not recognized this tiny yet significant detail.
Not sure what I'm talking about? Here is a simple diagram:
Previously, I had been doing this:
Or this: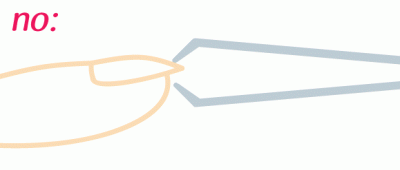 Once again, the correct way to cut a baby's fingernail (or anyone's nail, for that matter) is to line up the nail with the bottom blade, like so:
I am proud to say that all of our nail-clipping sessions have been tear-free and blood-free since I started using this method.
Now, you might be reading this and shaking your head, thinking, "Wow, what a moron. This lady didn't even know how to cut a fingernail!"
But if you are another mom who has trouble clipping their children's nails (and I know you are out there), I hope that this simple tip will help make your clipping sessions a bit less painful. 🙂 
You may also like: