I have never been a fan of the coffee conglomerate known as Starbucks. Sure I love me my coffee. However, the super chain has always seemed so contrived with their run-of-the-mill bland food items, ambience that screams "yuppy hipster here!", and overpriced coffee.
I much rather prefer the taste of the sub-$1 Dunkin' Donuts coffee anyway.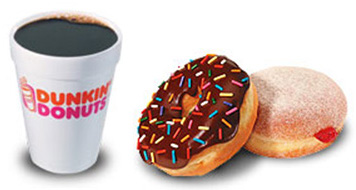 I like my coffee plain, with a side of donuts.
And what's with the size names?
"I'd like a medium coffee please."
"You mean a grande drip."
"Yes, you pretentious ass."
This is precisely the reason I was so delighted to see the new packaging designs for the market Brooklyn Fare. No-nonsense packages with simple, whimsical, and effective messages.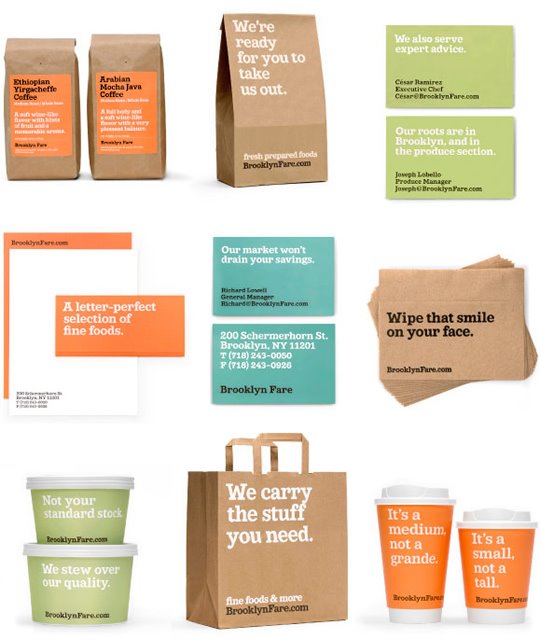 Did you notice the coffee cups on the lower right? Here's a closer look: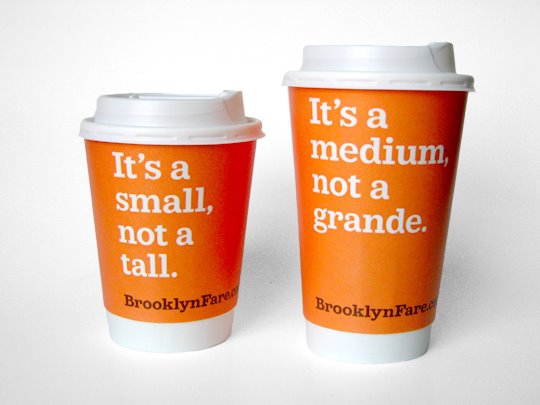 LURVES IT! Thanks to Packagings of the World for putting a smile on my face this dreary Monday morning!
Suffice it to say, you will never catch me placing a 34-word order at Starbucks (ie, Double Ristretto Venti Half-Soy Nonfat Decaf Organic Chocolate Brownie Iced Vanilla Double-Shot Gingerbread Frappuccino Extra Hot With Foam Whipped Cream Upside Down Double Blended, One Sweet'N Low and One Nutrasweet, and Ice.)
Incidentally, this order has been credited as single-handedly destroying the economy of South America.
You may also like: