Last night, I ran home after work to change into my Knicks jersey – we were going to the Knicks opening game against Miami!
Basketball is my favorite sport, and I've been a die-hard Knicks fan ever since high school. It was hard not to be, as the 90s were the glory days of the Knicks (at least in my lifetime) and all of New York was crazy for its boys in blue and orange. Ewing. Starks. Johnson. Sprewell. Houston.
I cried when the Knicks lost the 1999 NBA Championships to the Spurs (and I still have a grudge against the entire city of San Antonio, almost a full decade after the event). I declared that I can now die happy when I ran into Allan Houston at a sports bar and got his autograph.
So when the Knicks announced their schedule for the 2008-2009 season, I begged and pleaded with J to attend more games this year. I guess I am a lucky woman, because he agreed.  🙂
My old Houston jersey is so beat up that the letters are all peeling off. Although Houston had been hoping to return this season, an injury kept him out. So J bought me a new jersey: #42, David Lee!
I was worried that our 300-level seats wouldn't be too great, but I thought the view was fantastic!
In celebration of the first game, they gave all attendents a free hat. Here I am, happy with my hat and beer.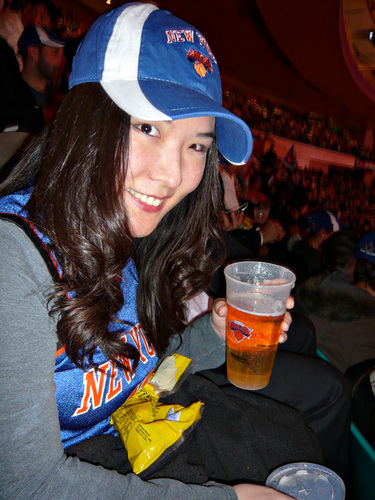 The Knicks City Kids dancers were so cute and amazing. I told J that when we have kids, we have to make them try out for this.
The halftime show featured Q-Tip…that's a name I haven't heard in a while!
D'Antoni seems to have groomed the team pretty well. I know that Miami isn't a very good team, but at one point the Knicks were up by 21 points!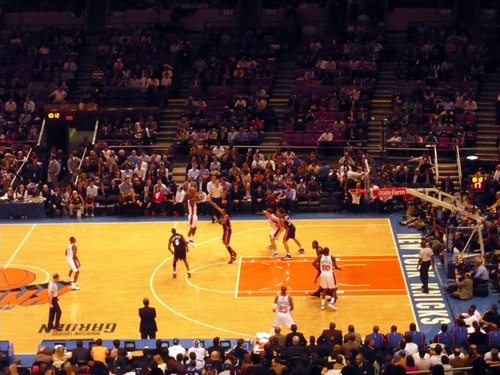 Alas, either the Knicks got too cocky or they deliberately decided to make the game more interesting. Miami started catching up in the last 8 minutes and at certain points, I was getting pretty nervous.
The Knicks prevailed at the end, winning the game 120-115. Crawford had an amazing 29 points…the man was unstoppable! My boy, Lee, had 16 points, 11 rebounds, and 5 assists.
All in all, a great game. 🙂
You may also like: