Note: this post is a follow-up to Stunted, where I express my fears about Aerin's developmental delays.
We had our appointment with the pediatrician yesterday.
And after listening to my concerns, examining her, and observing her interact with me and others…
The doctor said, "Let's wait and see."
He agreed that she is definitely slow for her age. But because she wasn't exhibiting some of the more common signs of autism, and because she comes from a multi-lingual household, he wanted to give her a few more months to see if she'll catch up on her own.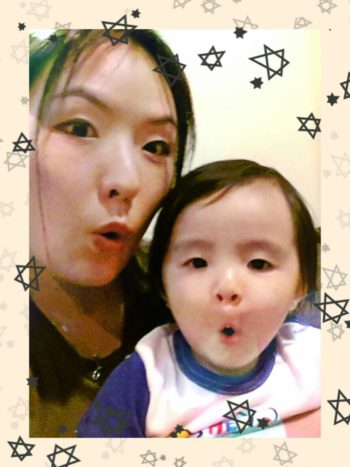 Fooling around with with front camera on my phone. The doc told me
her mimicking my facial expressions is a very good sign.
But then he went on to say that parents know their children the best, so if I'm that concerned, it wouldn't hurt to have her evaluated.
So I contacted our local early intervention program and left a message. (Their number defaulted to a voicemail system which told me that I should expect a return call within 2 business day.) I imagine that from here on in, there will be a lot of waiting.
Despite our decision to have Aerin tested, I was greatly encouraged after our visit to the doctor. I love our pediatrician and I trust him — I know I'm not the only one, because he's received all sorts of awards, both from the medical community and from his patients. He obviously has more experience with children than I do, and assured me that he has seen children less advanced than Aerin at her age who managed to catch up with some extra work and dedication from the parents. He encouraged me to continue to talk, read, and sing to her, and told me that it's not unusual for second, and subsequent, children to talk less in the beginning. (I later found an article which indicates that first-born children tend to reach the 50-word milestone earlier than later-born children.)
I'm not sure how fast we can get an appointment with the early intervention program with the holiday coming up, but I'm hoping for the best and will definitely keep you updated. Thank you for all your well wishes and advice!
You may also like: