A few years ago for my birthday, I received a set of blank cards. They were beautiful, no doubt, but I couldn't help but be a bit disappointed, thinking, "What an unoriginal gift!"
Well, I couldn't have been more wrong, because I am still using those cards, for everything from "Thank You" cards to birthday cards (when I haven't had the chance to go get something pretty or witty from a stationery store), to even "Congratulations and thanks for reading!" greetings to include with the giveaways that readers win on this blog!
Now that those set of cards are about to run out, I have been lazily seeking a new set of blank cards. And I am sorely tempted by these letterpress Utility Cards from Grain…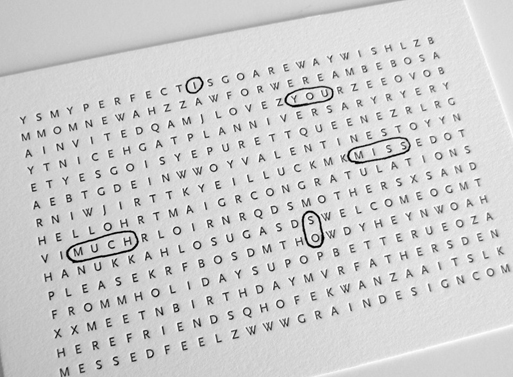 Each 6″x4″ card is letterpressed on extra thick tree-free paper that uses cotton fiber waste from textile manufacturing, and comes with a brown 100% post-consumer recycled content envelope. What's more, a cheat-sheet is included to help find the right words for whatever sentiment you may want to convey.
Here is the full list of discoverable words:
CLASSICS: 
Congratualtions 
Get Well Soon 
Happy… 
Anniversary / Birthday / 
Fathers Day / Hanukkah / 
Holidays / Kwanzaa / 
Mothers Day / New Year / 
Valentines Day 
Merry Christmas 
Thank You 
Sorry For Your Loss
SUBJECTS SUCH AS: 
Baby 
Boy / Girl 
Dog 
Father / Dad 
Friend(s) 
Girl 
Home 
Mate 
Me 
Mother / Mom 
My Love(ly)
Queen 
Us 
We 
You(r)
HIT PHRASES: 
Smitten 
Be Mine 
Come Home Soon 
Feel Better 
Forgive Me 
Good Luck 
Hello Love 
Howdy Friend 
I Am Sorry 
I Love You 
I Miss You 
I Messed Up 
Its A Boy / Girl 
Mazel Tov 
Nice To Meet You 
Thinking Of You 
Way To Go 
Welcome Home 
Werq Queen 
Wish You Were Here 
You Are Invited 
You Are Lovely 
You Are Perfect
LOVE it. The cards are a bit pricey at $4 each (or $19 for a set of 5), but considering the materials and the printing technique, they do not seem too overpriced.
Via Better Living Through Design.
You may also like: