Do you tweet? Do you live in the NYC area (or can make it to NYC on September 13)?
Do you ♥ Martha Stewart?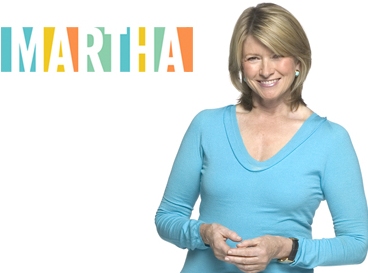 Then this post is for you. I received this email earlier today from the producers of the Martha Stewart Show…
Exclusive: Martha's Twitter Section

Be part of the very first Twitter audience section on "The Martha Stewart Show"! As part of this exclusive group, you'll get a first look at the season premiere (9/13), be able to live-tweet throughout the show, and share your take with thousands of Martha fans around the world.

To request tickets: visit www.marthastewart.com/get-tickets and be sure to tell us about your Twitter account and why you want to sit in the new Twitter section!

We look forward to hearing from you!
I had previously attended a taping of the Martha Stewart Show that was devoted to bloggers, and loved every minute of it! (Check out the live blog I did from that show here.)
As much as I would love to attend this taping, I am hesitant to drag my fat pregnant arse (I will be 37 weeks then) down to the Meatpacking District, wait on line, and sit uncomfortably in those tiny studio seats. So I will pass, but am happily passing this information along to my readers.
I hope that at least one person I know will be able to make it!
You may also like: