So I had no idea that the iconic publisher Penguin had started a series called Graphic Penguin Classics which takes popular and classic novels and redesigns the covers, illustrated by today's hottest graphic artists. (You can get a better look at the covers at this Flickr Set.)
This is yet another lesson that reminds you that you learn new things every day. Even when you're thirty and overtired and have baby drool stains on all your clothes.
Anyway, how much do you love the new designs? I mean, don't get me wrong — IMHO, nothing beats the classic Penguin book covers (did you know that you can get them in postcard format?), but sometimes a redesign can help you notice things you haven't before, and/or see things in a whole new light. I'm especially digging the new cover for The Communist Manifesto, illustrated by Patrice Killoffer.
Today, Flavorwire featured two new additions to the Graphic Penguin Classic series, as well as three new covers from a new series titled "Penguin Threads," which looks to be this year's answer to the publishing house's 75th Anniversary Penguin Ink collection.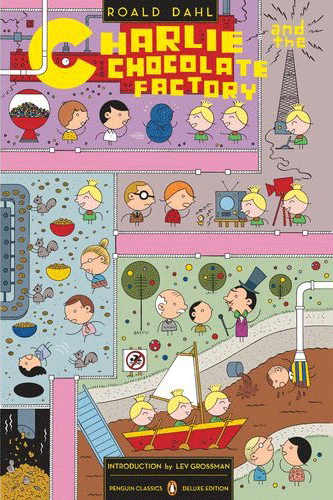 Which one do you like best? I'm loving the cartoonish feel of Charlie and the Chocolate Factory, and I knew that I recognized the style when I read that the illustrator, Ivan Brunetti, has created many covers for The New Yorker.
You may also like: